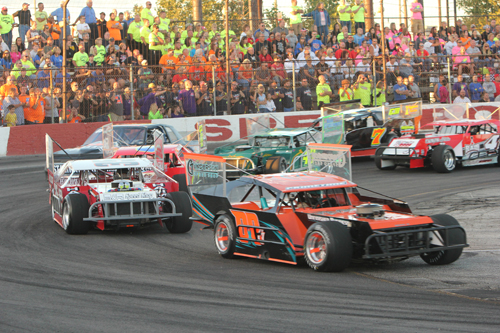 The Indianapolis Speedrome, which enjoyed a comeback year in 2017 under new ownership and after a major renovation, has signed naming-rights deals with two sponsors, track officials announced Thursday.
 
The 76-year-old east-side short track will now be called the "Tom Wood Group Indianapolis Speedrome powered by Lincoln Tech" as part of the sponsorship agreements.
 
Financial terms of the deals were not disclosed, but track president and general manager Jonathan Byrd II said the contracts were for two years and in the mid-five-figure dollar range. The sponsors have options to extend the agreements.
Tom Wood Group launched its initial auto-sales lot 50 years ago at 3125 E. Washington St.not far from the Speedrome. Today it operates 18 dealerships throughout the Midwest.
Lincoln Tech has significant ties to the motorsports industry. The for-profit educator works directly with the Schmidt Peterson Motorsports team and offers hands-on training in automotive and skilled trade professions at its northwest-side campus, where it has seven auto bays, 16 diesel bays and four collision paint booths set up in a 63,000-square-foot training center.
 
"I am so very proud of this new partnership," Byrd said in written comments. "The Speedrome had a rebirth year in 2017 thanks to new ownership from Kevin Garrigus. This renewed excitement has attracted much interest from track faithful, in the surrounding community, and outside the city limits."
 
Garrigus, the owner of three local used-auto dealerships, acquired the Speedrome in November 2016 and invested $500,000 in the 6,000-capacity facility.
He added 560 stadium-style seats along the front stretch and bleachers in the third turn (replacing metal folding chairs); improved ADA-accessible seating; installed a new sound system; updated the track's payment system to accept credit cards at every ticket window and concession stand; and remodeled the bathrooms.
Garrigus also repaved the oval and figure-8 tracks and expanded the pit area and winner's circle.
The Speedrome season got off to a fast start April 1 with a near-sellout. The track averaged more than 2,000 fans per race date in 2017, with more than 80 cars (on average) showing up to race across five divisions.
 
Tom Wood officials said they were impressed with the track's turnaround.
"The Indianapolis Speedrome's competitors and fans represent the type of folks we are looking to become not only customers of Tom Wood and all of our brands, but we see great potential for them to become career Tom Wood Group employees and ambassadors," said William Demaree, group director of fixed operations for Tom Wood, in written remarks. "What the Speedrome has done to bring fans out this past year has been impressive, and we are happy to help continue the legacy of the track for many years."
Daniel Richins, president of the Lincoln Tech's Indianapolis campus, said the sponsorship is a way to get involved with the tradition of racing in the city.
"We're excited to be a part of the upcoming seasons at this historic track," he said in written comments. "Drivers like Darrell Waltrip, Tony Stewart, and A.J. Foyt have raced here. For more than 70 years the Speedrome has been an Indiana landmark, and we're proud to have our name on this iconic site."
In addition to announcing the sponsorship deals, officials said the Speedrome has become the Midwest dealer for Legends Cars.
Also, Garrigus is launching a new business, Third Turn Performance, to sell performance parts for racing and street cars. It also will build Late Models (Figure 8 cars), Faskarts, Junior Faskarts and Legends cars.
The Speedrome's next season gets under way April 7
Please enable JavaScript to view this content.