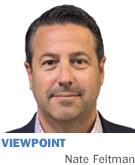 I recently became a co-owner of IBJ. Soon after my purchase was announced, many asked me, "Why would you invest in a newspaper? Aren't newspapers dying?"  
My answer: Our desire for trusted news and balanced analysis is increasing, not decreasing, and that sounds like a business opportunity. In addition to seeing a business opportunity, I believe it is important to preserve IBJ as a locally owned institution long into the future. Local ownership helps ensure IBJ will continue to report on and analyze issues that are important to our community.
As engaged citizens, we know the media serves an incredibly important role in our democracy and civil society—so important that the media is often described as the fourth branch of government. Without a strong and independent media, it is difficult to have an informed and engaged citizenry. And without informed and engaged citizens, our republic is at risk. More on that front in future columns.
Since its inception in 1980, IBJ has built a reputation for in-depth and unbiased reporting. The newsroom has always enjoyed editorial independence. Our reporters have won numerous national awards. In other words, we have been on the leading edge of the news business for many years.
I've always viewed IBJ as a local version of The Wall Street Journal—a must-read for those of us wanting to stay current on the happenings in Indiana's business, not-for-profit and government sectors. Victor Kiam famously said when he bought Remington, "I liked the shaver so much, I bought the company." The same is true for me and IBJ.
That being said, we all know that the economics for newspapers have changed dramatically. We all receive our information much differently than when IBJ was founded. The business model has changed due to the advent of the internet and the plethora of new digital advertising options. The transition from print to digital has been especially challenging for traditional daily newspapers. Although I'm old-school and still like print, many of us choose to receive our news on our phones, iPads or computers. These changes have caused disruption and consolidation in the media sector.
But what businesses haven't been impacted by new technologies in recent decades? What businesses don't face disruption and increased competition? The challenges in media are similar to those faced in every industry. I recently sold a successful health care company. I say successful because we survived incredible changes over the eight years I owned the firm. We survived lower reimbursements and increased audits from our payers, an ever-increasing regulatory burden and increasing competition.
Guess what question I heard when I became an owner of that company in 2010? "Why are you getting in now when so many bad things are happening to our industry and so many are looking to exit?"
We were able to survive and thrive by being entrepreneurial. That is, looking at new areas of growth and opportunity. We entered new lines of business that were more profitable. We became more efficient because we had to in order to survive. Our focus on quality service helped us beat our competition and win customers. Our management team committed itself to working harder and smarter than our competition. In other words, we had a vision and executed it. We also were opportunistic along the way—not afraid to take a risk and venture into new areas. I'm confident that this is the story of most successful businesses.
To ensure IBJ's future, you will see us take chances and go in new directions in the coming months and years. One such area is our coverage of government and politics. As we all know, what the government does and doesn't do has important implications for all aspects of society—especially business. I am convinced our readers are hungry for sound public-policy analysis and civil debate. Most of us are tired of the name-calling and inability of our leaders to work together to address important issues facing our city, state and country.
Human liberty, free markets, the rule of law and ultimately our civic culture and engagement are affected, positively or negatively, by decisions our leaders make on our behalf. I'm confident IBJ can play a larger role in fostering public-policy analysis and civil debate. Stay tuned for more in this regard in 2018.
Like all businesses, we can't rest on our past accomplishments and ways of doing business. As Victor Kiam also famously said, "In business, the competition will bite you if you keep running; if you stand still, they will swallow you."•
__________
Feltman, an attorney, is a former secretary of commerce for the state of Indiana and a former co-owner of Home Health Depot. He bought one-third of IBJ Corp. in September.
Please enable JavaScript to view this content.