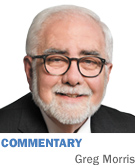 IBJ is changing the issue date of the newspaper from Monday to Friday, effective with the last issue of 2017.
Print subscribers should receive their Monday, Dec. 18, edition at the normal time. As part of our transition to the new schedule, the next issue will not be until Friday, Dec. 29.
Instead of a regular issue on that date, subscribers will receive our annual "Book of Lists"—which, for the first time in decades, will appear in a larger, tabloid-size format that will include an expanded version of our popular year-in-review feature.
In addition to recapping the year's top stories and newsmakers, it will list the 2017 honorees for IBJ's recognition programs, including Forty Under 40 and Women of Influence.
This will be a BIG publication, offering a year's worth of news and information to reference over the New Year's holiday and throughout 2018. Regular IBJ content will resume with the Friday, Jan. 5, issue.
Why is IBJ changing issue dates from Monday to Friday? The primary reason is to take advantage of regular business-week postal delivery versus the weekend—an adjustment that will shorten the time between when IBJ comes off the presses and when it's delivered. Under the current schedule, home subscribers typically receive their papers on Saturday. But if they don't, delivery is delayed until at least Monday.
I get a lot of reader feedback. Most comes in the form of compliments regarding the quality of journalism produced in IBJ—news, information and commentary you can't find anywhere else. The next-most-mentioned topic is how much readers enjoy the routine of reading their IBJ at home on Saturday and Sunday, so they are informed and up to date as they head to the office Monday morning. And on the other side of this issue, how disappointed they are if they don't receive their paper on Saturday.
You now should have your new issue of IBJ waiting for you when you arrive home Friday afternoon. Or, tuck it under your arm and take it home from the office Friday afternoon. Saturday morning will now be an IBJ reading routine option!
Through this transition, and through the holidays, we promise IBJ news coverage won't miss a beat. We'll continue our comprehensive business-news coverage at IBJ.com, and we'll produce our regular stable of email newsletters, including Eight@8 and IBJ Daily.•
Please enable JavaScript to view this content.