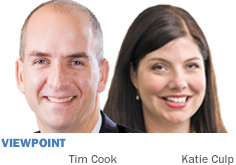 Although 2018 is a non-budget year for the Indiana General Assembly, lawmakers still face a slew of challenges when they return in January. Many of those share an underlying commonality: workforce development.
The fact is, workforce development affects many aspects of the economy, including education and training, the creation of new jobs, unemployment, and even crime. This pervasive impact is one of the reasons workforce has been a signature focus during Gov. Eric Holcomb's first year in office, and it will continue to be a priority going into 2018.
So where should the Legislature begin? Some believe the starting point for a robust workforce is a properly educated workforce. Business, industry groups and educators have been quick to point out an Indiana student can graduate high school without completing and passing a computer-science-related course. Not that the workforce problem can be resolved with an education steeped in technology, but it's certainly telling that Hoosiers can complete a secondary education without passing a basic computer course.
In the post-secondary arena, despite Indiana's abundance of superb science and engineering universities, observers believe there are not enough college students graduating with science, technology, engineering and math—referred to as STEM—degrees. For students wanting to enter the workforce right out of high school or who prefer a technical degree to four-year colleges, STEM-related jobs are more readily available than others.
Beyond a traditional classroom education, real talent development occurs by training existing workers, not just new employees. Like many states, Indiana has a variety of state agencies touting workforce as a key objective and a cadre of various programs and initiatives to prove it. But critics argue the result has become an uncoordinated mishmash of objectives and agendas competing against one another for attention and funding.
Improving priorities and resources will take a combined effort of legislative fixes and executive leadership, and both bodies of government want to tackle this important task. Fortunately, when it comes to promoting the state's training program most suited for optimal impact, the Legislature has a ready solution in the Skills Enhancement Fund.
The fund—a best-in-class, highly competitive grant managed by the Indiana Economic Development Corp.—provides reimbursement to companies spending their own dollars to provide training to employees. Currently, many companies don't bother to apply, or they receive far less in grant awards than they need. The reason is simple: The Skills Enhancement Fund is perpetually underfunded.
With even a modest increase in that funding, this fixable problem can be quickly remedied by the Legislature. Decisive action will make an immediate difference in the quality of our talent and lead to higher-quality, better-paying jobs.
An investment in workforce development can also affect crime reduction, specifically in reducing recidivism rates. With unemployment at historic lows, employers have been forced to think outside normal conventions to fill positions. This fact has led to an unprecedented wave in individuals with criminal records finding jobs. Whether these hiring decisions are based on targeted tax credits, employee matchmaking efforts by workforce advocates, necessity, or various other factors, legislators would be well-served to look for additional ways to attack crime and promote workforce at the same time.
Of course, workforce is not the only issue on the Legislature's plate. Concerns ranging from early childhood education to the opioid crisis need their attention. But even these topics affect workforce development and Indiana's talent pipeline. That's why, as lawmakers and lobbyists gather in the Statehouse halls a few weeks from now, workforce development will—and should—be the dominating topic of conversation.•
__________
Cook is CEO and Culp is president of KSM Location Advisors.
Please enable JavaScript to view this content.