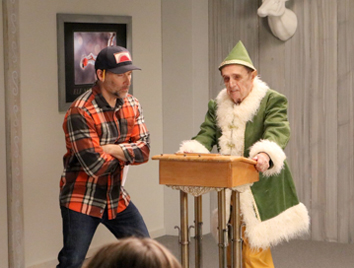 An Indianapolis firm played a big role in bringing back to life the beloved Papa Elf character played by Bob Newhart in the 2003 holiday blockbuster "Elf."
Ad agency Bandy Carroll Hellige, which is based in Louisville and has offices in Indianapolis, and Indianapolis-based video production firm Factory worked on the new Kentucky Lottery television ad starring comedy legend Newhart as Papa Elf.
The ad, which was produced this fall and began airing on Thanksgiving, will run through early January. It has been broadcast heavily throughout Kentucky and southern Indiana.
Officials for the Kentucky Lottery and Bandy Carroll Hellige came up with an idea to produce a TV ad for the lottery's holiday scratch-off game featuring Christmas elves. 
The TV ad, called North Pole Focus Group, involves a group of elves deciding which gift people would like to receive this holiday season. After several less-than-inspiring gift ideas are proposed, one of the elves suggests Holiday Gift Scratch-Offs. Hallelujah!
During conversations between officials for the Kentucky Lottery and its contractors, someone suggested trying to get Newhart to revive his role as Papa Elf for the TV commercial.
After getting the green light from New Line Cinema, which produced "Elf," and Newhart, it was on.
"I think it was actually pretty easy to get Bob Newhart," said Factory owner Ross Simpson, whose company produced the 30-second commercial earlier this year. "He's proud of that role—and the part he played in that movie."
Newhart's costume for the TV commercial had to be altered slightly, because the movie costumes were based on popular holiday cartoons produced by Rankin-Bass Productions, and permission was not granted by that company to replicate the costumes from "Elf."
While stars involved in TV commercials often have a lengthy list of special demands, Simpson said Newhart was "extremely easy-going and easy to work with."
Simpson has lots of experience working with on-screen stars. While his company mostly works on commercials now, he's previously worked on big-budget movies including "The Green Lantern," "Get Him to the Greek," and "G.I. Joe: Retaliation."
About the only request Newhart made is that the commercial be shot in Hollywood, California, near his home.
Newhart, 88, had no entourage accompany him to the shoot and even drove himself to the set. Kentucky Lottery officials said Newhart even offered input to make the commercial better.
Newhart was easy to direct, Simpson said. But when Simpson asked Newhart, who is best known for starring in two long-running TV series in the 1970s and 1980s, to talk faster in the commercial, Simpson said Newhart—who has a slow delivery occasionally marked by stammering—laughed and said "doing it this way all these years has got me a nice house in Beverly Hills."
"Bob Newhart was really nice, and just as cool as you'd hope he would be," Simpson said.
While the ad was shot in just over five hours in one day, Factory and Bandy Carroll Hellige were involved in a three-week preparation period which involved designing and building a set, designing costumes and casting for other roles in the commercial. 
Sources said a spot like the one produced for the Kentucky Lottery carries a high five- or low six-figure price tag to produce.
Already, the TV spot is having a big impact, according to Kentucky Lottery officials, who told IBJ they expect 20 million holiday scratch-off tickets to be sold this year. That's twice the number sold last year.
Please enable JavaScript to view this content.