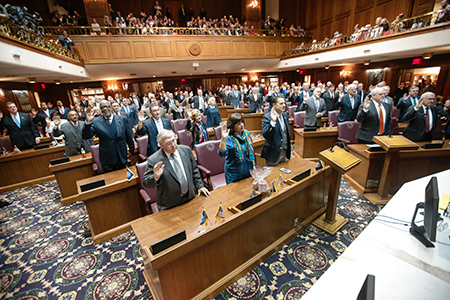 For the first time in years, Indiana's Republican supermajorities are returning to the Statehouse without a major legislative goal to accomplish during the annual session that begins Wednesday. That leaves a vacuum some plan to fill with contentious issues and debates that GOP leaders have in the past sought to contain.
"There's usually one overarching, bright shiny object that keeps attention focused. And it's a little bit different this year," House Speaker Brian Bosma recently told reporters. He later added: "It's OK. We'll manage it.  We'll work through it."
That may be easier said than done.
With such large majorities—70 of 100 House seats and 41 of 50 Senate seats—the ability of Bosma and GOP Senate leader David Long to keep a handle on legislators will likely be tested. Senate Republicans are already dealing with a leadership vacuum after the recent retirements of Sen. Luke Kenley, the chief GOP budget writer, and floor leader Brandt Hershman, who is stepping down effective Tuesday.
Perhaps spotting dark clouds on the horizon, both Bosma and Republican Gov. Eric Holcomb issued pre-emptive calls for civility amid what they view as a coarsening political climate. It's unclear if the party's restive base, let alone several outspoken lawmakers, will go along.
Social conservatives are already on the attack, angered that Republican leaders have not taken up constitutionally questionable anti-abortion legislation.
Recently, the group Hoosiers for Life issued a news release superimposing a snowflake over a picture of Bosma. It's a reference to the term "snowflake," which conservatives have pejoratively employed against liberals they deem delicate and overly sensitive. Bosma says anti-abortion activists also sent him vitriolic messages, including ones left on a memorial page for his recently deceased mother.
Meanwhile, tempers flared during a recent legislative forum previewing the session. Bosma and Democratic Rep. Linda Lawson clashed over a gun law passed last session allowing domestic violence victims to conceal carry without a permit. Lawson, a retired police officer, says it essentially encourages a victim to carry a gun without proper training.
"Not one of these people here has seen a woman shot in the head in a domestic violence quarrel," said Lawson, of Hammond. "It is outrageous that you hand a gun to a woman with no training, no expertise, not even know how to load a weapon and say this is going to make you safer."
This session, Republican Rep. Jim Lucas, an avowed gun rights supporter, is pushing to go a step further. He wants to eliminate the need to have a conceal carry license. The idea is opposed by advocates for domestic violence victims and law enforcement.
Hinting at just how tricky the issue can be in a pro-gun caucus, Bosma suggested federal gun legislation moving through Congress could pose complications. While careful not to rule anything out, Bosma said Lucas' bill may have to wait because "you can't prioritize everything."
Lucas, a libertarian leaning Republican from Seymour, will also sponsor a bill to legalize medical marijuana. Veterans groups support it as a way to help returning soldiers cope with post-traumatic stress disorder. Indiana's powerful prosecutors association and the governor oppose it.
To that end, the brevity of a short 10-week session ending by mid-March may prove a blessing. However, there's still significant business lawmakers hope to take up.
Holcomb wants to tinker with the state's workforce development training, though much of the heavy lifting will come in the 2019 session.
And support appears to be coalescing around a proposal to eliminate Indiana's prohibition-era ban on retail Sunday alcohol sales. An effort to allow convenience stores and big box retailers to sell cold beer—a move widely supported by the public—faces an uphill fight against the clout-heavy liquor store association, though.
Democrats hope to take advantage of President Donald Trump's sub-par popularity rating.
Relegated to irrelevance in the Legislature for the better part of a decade, their message is focused on a number of proposals they perceive Republicans to be weak on. They include passing a hate crimes law, increasing funding to fight the opioid crisis and making changes to the redistricting processes to make legislative and congressional districts more representative of the electorate.
Democrats also want to address Indiana's beleaguered Department of Child Services.
The state has seen funding outstripped by a soaring number of child welfare cases tied to the opioid epidemic. In December, Holcomb's outgoing child welfare chief blasted him in a scathing letter of resignation, in which she accused him of cutting programs and micromanaging the agency in ways that "all but ensure children will die."
"There's a lot of unfinished business," said Senate Democratic Leader Tim Lanane of Anderson.
Please enable JavaScript to view this content.