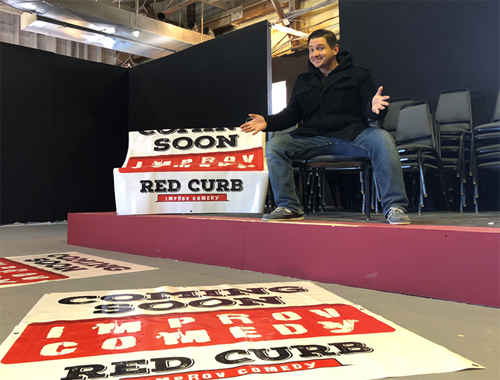 Will Pfaffenberger, known to many as Dave Smiley's producer and on-air sidekick on WZPL's "Smiley Morning Show," is launching a new performance venue in Avon.
At Red Curb Theatre (8403 E. U.S. Highway 36), Pfaffenberger promises weekly improvisational comedy shows, beginning with performances solely on Saturday nights—one family-friendly and the other more suitable for ages 17-and-up. General admission tickets will be $15.
The space, located in a small retail complex, formerly housed Mystique Salon & Day Spa. Red Curb's opening is scheduled for Feb. 17.
Rather than stand-up comedy, Red Curb will feature shows with performers who make up comedic scenes as they go, often based on suggestions from audience members.
"I wanted to start out manageable and clearly focused," Pfaffenberger said. "It's a place that will nourish long-form improv and train performers in that style."
He acknowledge that the style of performing would require a "learning curve in a community that has never had it before."   
The build-out and other start-up costs for the 60-seat spot are in the neighborhood of $20,000, with $5,000 a month projected for operating expenses, Pfaffenberger said.
His business model is modest. "If we meet our goals, Saturday night shows and concessions should keep doors open and lights on," he said. "The rest of the time, we'll offer it for meeting or rehearsal space. I don't expect to be making money on it. I've got another full-time job [the "Smiley" program]. This is a passion project."
Helping matters is that Red Curb scored the last beer license available in Avon. "And we managed to get it for the actual real price," Pfaffenberger said. "I was amazed."
An Avon native, Pfaffenberger is no stranger to the improv stage. A professional writer/producer/performer since 2004, he co-founded the local sketch and improv groups Fun Dumpster, Three Dollar Bill Comedy, and the two-man Dudesical.
Pfaffenberger's partner in Dudesical, Jon Colby, is a graduate of the Second City Conservatory who has been teaching improv across the country since 1998. He will serve as artistic director for Red Curb.
A key part of his job will be developing the ensemble of performers who will serve as the "house company," a paid group of more than 20 performers who will rotate into shows.
"It's my job to make sure that everyone understands the style we are going for," Colby said. "We want our improv to focus on scenes that allow for more character development and the relationship between those characters but is still loose enough to allow for variety."
A given show will feature six performers with both short- and long-form improvisations. Ultimately, Pfaffenberger plans for company members to launch their own shows, with the theater also hosting out-of-town talent.
The venue's name comes from Pfaffenberger's time at Avon's White Oak Elementary School.
"If you got in trouble at recess, you sat at the red curb," he said. "Teachers saw it as punishment, but the kids thought it was a great place to meet like-minded people. It's embracing where the slightly naughty kids hang out—the ones who played outside the rules or pushed the limits a little too hard."
Pfaffenberger added that the owners of CSz Indianapolis, aka ComedySportz on Massachusetts Avenue, have given the project their blessing. "We're talking about it more as collaborative and cross-promoting," he said. "My focus is building a market on the west side."
The theater is hiring for tech, box office, and concession positions.
Please enable JavaScript to view this content.