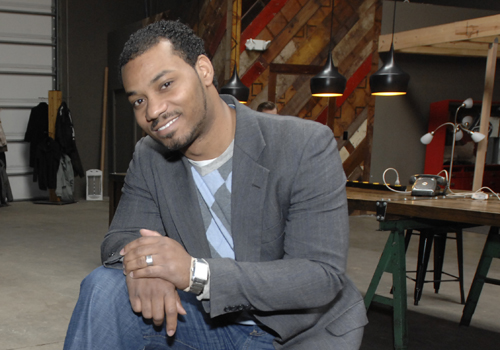 An entrepreneur, rapper and actor who had dreams of becoming a major Indianapolis real estate developer faces charges of securities fraud, the Indiana Secretary of State's office said Tuesday.
Jaron Marquis Garrett, 34, appeared in Marion Superior Court on Tuesday for an initial hearing on two Class C felony charges brought by Marion County Prosecutor Terry Curry. He is charged with the fraudulent or deceitful act in the offer, sale or purchase of a security, and the unlawful sale of a security.  
Garrett was jailed on the charges in California on Thanksgiving and was released after agreeing to appear at Tuesday's hearing. He paid a $1,000 cash bond to avoid being jailed in Marion County.
Garrett now lives in Encino, California, where he is building a career as a rapper and actor. But the Arsenal Technical High School graduate dabbled in several projects in Indianapolis before leaving the state a few years ago.
In 2011, he co-founded Dreamapolis, a business accelerator that tried to help urban entrepreneurs build companies or bring products to market. The business was dissolved last year.
In 2007, at 24, Garrett tried to raise funds for $30 million downtown office building called the Marquis Tower that would have been built at the corner of Washington and Pennsylvania streets.
Prosecutors say Garrett sold an unregistered security to Royce Braxton of Indianapolis in 2012 and told him the money would be used to help redevelop the former Omar Baking Co. building at 1555 Bellefontaine St. into a commercial building called the Indianapolis Monon Arts Factory, which would contain more than 100,000 square feet of office space and studio lofts.
According to court documents, Braxton gave Garrett $10,000 and was given an "investor package" that promised in writing that he would receive monthly payments of $500 each for 36 months, amounting to an 80 percent gain on the investment.
Prosecutors say Garrett told Braxton he would have partial ownership of the Monon Arts project, and he provided him a list of 13 other financial investors. Four of those investors, however, were either Garrett or companies owned by Garrett. Two others were the building's owner and leasing agent, and the other seven were parties who denied having any dealings with Garrett or the real estate project.
Braxton told investigators he received $1,001 back from Garrett later that year but didn't receive another payment.
Investigators say Garrett put the funds from Braxton in checking and savings accounts with JP Morgan Chase under the name of Monon Arts Factory. Garrett, they say, transferred most of the money from those accounts to companies he owned: Indianapolis Urban Theater and Dance, and Marquis and Co.
The building's then-owner told investigators that Garrett had taken out a lease for space in the building in December 2011 but never paid any rent. He informed the owner that he was breaking the lease in July 2012 because he couldn't afford the rent, the owner said.
Garrett "sold an unregistered security, made false statements, and failed to use the investment funds for their stated purpose," the Secretary of State's office said Tuesday in announcing the charges.
Garrett's attorney, Russell Sipes, of the Sipes Law Firm in Indianapolis, said Garrett was simply "a young man trying to put together some funding" for a real estate project and "never intended to get involved in the securities area." When the project fell apart, Garrett was unable to pay back the money at the time.
Sipes said Garrett has now paid back more than $5,000 in restitution. He is expected to plead guilty to one of the fraud charges in May in return for probation, if prosecutors agree to the deal.
Garrett has "learned a lesson," Sipes said, and hopes to move on. He is doing well in the music and movie production business in Los Angeles, the attorney said.
Garrett's other ventures include independent record label Urban Genius Entertainment. He began performing and recording as a rapper under the name Jaron Marquis in 2016. He also has five film credits to his name, including brief appearances in "Straight Outta Compton" and "Furious 7."
Please enable JavaScript to view this content.