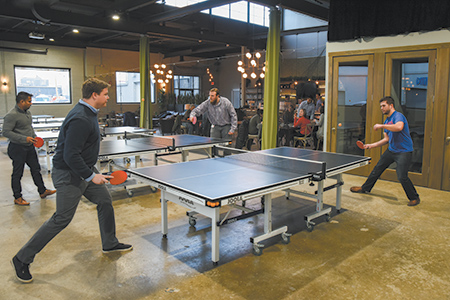 If you find the sound of bouncing pingpong balls intoxicating—or if you'd like to become intoxicated while playing pingpong—Smash Social (600 E. Ohio St.) might be the place for you.
Don't confuse Smash Social with upscale table tennis parlors in other cities, such as the SPiN chain, which comes with lessons from pros and a house DJ booth. The spirit here is casual and playful, more coffee shop than bustling bar.
On the other hand, on two visits, I have yet to see anyone playing beer pong, so it isn't that casual.
Tucked away behind a nondescript multi-use building, Smash Social offers batch-brewed coffee, espresso, tea, a few curated creations (Butterbeer Latte, Coffee Cherry Fizz), and beer on tap. There's also a menu of snacks, including Avocado Toast, Yogurt Parfait, and 4 Birds Bakery cookies and granola.
Unlike your high school friend's basement, here, there's plenty of light coming in during the day through a combination of overheads and large, undraped windows along two of the walls.
Also unlike your high school friend's basement, the tables here—six of them—are pay-to-play.
You can join for the day ($10-$12), month ($50) or year ($500) with the latter two membership levels including a T-shirt, free coffee and the opportunity to make reservations. Unlike bowling alleys, there's no charge to rent the necessary equipment. Paddles and balls are part of the deal.
As a place for a novel office party, Smash Social seems like a winner, with plenty of table seating, a lengthy bar and a chance for fierce and/or friendly competition on tables with plenty of elbow room around them. It's got public space (including phone-booth-like cubicles in case you get an important call mid-game) as well as reservable conference rooms and a loft, complete with comfy sofas, overlooking the gaming action.
And, of course, competitive paddlers should celebrate having a new home base. Smash Social will certainly be a mecca for the "I have my own paddle" crowd.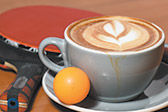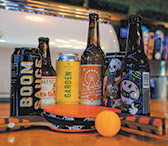 (IBJ photos/Eric Learned)
On one of my visits, a group of enthusiasts from Eli Lilly was getting semi-fiercely competitive with the kind of playful seriousness that makes such battles a blast. Others soon joined in, creating a busy, spirited mix of T-shirt wearers and the tie-clad. There's something to be said for hearing laughs in a bar that don't involve drunken high-fives.
For those not actively participating, the pong sounds and the energy of the players make for a fun audio/visual distraction—when six matches are going at once, you have something of a symphony. And the actual music coming from the speakers is set to conversation-comfortable levels, which is a plus.
As for walk-in players, will a quartet of friends want to drop $40-$48 to play? Or will a couple out for some fun find $20-$24 a worthwhile price point for something they are used to playing for free? I'm not convinced the pricing strategy has been properly tweaked.
Then again, I suspect few of the apartments and condos popping up all over downtown have room for a table, so perhaps I'm underestimating the appeal as a recreational getaway.
And that's not meant as a backhanded compliment.•
Please enable JavaScript to view this content.