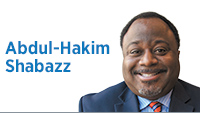 As we go into the third week of the Indiana General Assembly session, I've been hearing some folks lament that lawmakers aren't tackling a "big thing" or that Gov. Eric Holcomb has not offered a "bold agenda." In other words, people are complaining there is no significant initiative that costs a lot of money, takes years to accomplish, and grabs a lot of headlines.
Sigh. You know, some days it's OK just to govern. Not every issue needs to be tackled like it was the Great Depression.
Holcomb spelled out his agenda in his State of the State address, and it had no big surprises: improve and skill up Indiana's workforce, continue the fight against opioids, work to give Hoosier kids a better education. He did add tackling infant mortality to the list, citing statistics that more than 600 children born annually in Indiana never make it to their first birthday.
Statehouse Democrats said the agenda lacked boldness and leadership. As an example, they pointed out that the governor in his 30-minute address spent less than two minutes talking about the recent controversy at the Department of Child Services, where former director Mary Beth Bonaventura resigned, leaving behind a scathing indictment of the agency in which she said it was underfunded and children were going to die. Democrats also say the governor should have talked about redistricting and bias crimes.
Partisan politics aside, some of us would argue that not every legislative session should be marked with a "bold agenda designed to have the state marching into the 21st century;" sometimes it's OK just to keep the trains running on time. If you think about it, a lot of heavy lifting has already been done over the last 12 years: property tax caps, education reform, restructuring the tax and regulatory climate to make Indiana more business-friendly—not to mention a multiyear, multibillion-dollar road funding plan.
What more do these people want?
In the more than 20 years that I've covered and written about government at the state and local levels, I've always had problems with the notion that lawmakers must "do something." Whenever I hear someone say the government must "do something," that usually means they want to make a big announcement, spend a lot of money and, at the end of the day, absolutely nothing changes.
I go back to the example of DCS, where Democrats want the governor to "do something," i.e. spend more money. I could argue the best way to do something is to get all the facts first and then make an intelligent decision, as opposed to making big announcements that, as Shakespeare would say, are "full of sound and fury and signify nothing."
That's not how you "do something." And you don't need a "big thing" to do something. Some of you might find this hard to believe, but when you engage in good governance and take care of the day-to-day stuff, you will find the need to "do something" tends to decrease dramatically. This doesn't mean you won't have an emergency pop up from time to time that will require immediate attention. But it will be much easier to put out that political fire if you're not spending all day looking for ones that don't exist and then spending a lot of time and taxpayer money to put them out.•
Click here for more Forefront columns.
__________
Shabazz is an attorney, radio talk show host and political commentator, college professor and stand-up comedian. Send comments to ibjedit@ibj.com.
Please enable JavaScript to view this content.