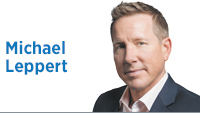 Indiana Attorney General Curtis Hill wrote in an editorial last November, "I have long opposed legalizing marijuana, which, to put it bluntly, makes people do stupid things."
My wife recently pointed out to me that I use the word "stupid" more than I should. I'm glad Hill used it for me here.
In 2017, the Indiana General Assembly passed a law that was designed to allow those with treatment-resistant epilepsy to purchase cannabidiol, or CBD, to be consumed as a therapy. CBD is a derivative of marijuana. While Hill readily admits it is not a product that can effectively be used to "get high," its legal definition was not adequately addressed by Indiana's new law, and is also still an illegal substance at the federal level.
This issue is not about Curtis Hill or stupidity, though. It is about legislative "creep." Many people believe legalizing pot will happen in one sweeping, landmark decision full of cinematic suspense and intrigue. Congress could do it that way—which is a humorous hypothetical as likely to occur as meeting the Tooth Fairy.
Indiana's laws in this arena will creep into passage, timidly taking the next step with extreme caution and worry. And that's a good thing.
As pot legalization has evolved in the eye of the public, state laws have evolved with it. Only four states are left in the United States that do not allow for either the sale or use of CBD, marijuana for medicinal or recreational purposes, or all of the above.
In 1996, California passed the first new pot law when voters approved its use for medicinal purposes. By 2011, 17 states had done so. In 2012, Colorado and Washington passed the first laws allowing for recreational consumption. Six other states and D.C. have since followed their lead.
The Indiana General Assembly wants to see things work, or not, in other states before it goes jumping into the deep end on innovative legislation. The body usually uses the stairs into the pool, not the diving board. Frankly, this serves our state well almost every time.
This is one of those times.
The CBD confusion is caused in part by those who oppose marijuana legalization fighting off CBD to prevent legislative creep. The attorney general and the Indiana Prosecuting Attorneys Council oppose marijuana's becoming legal here. Fighting CBD, whether through legal maneuvering or by a coherent policy debate, is clearly an attempt to delay it.
That delay serves opponents well. States with legalization are enjoying the benefits of their new pot laws. However, the negative impacts should not be ignored and those negatives will likely become more vivid with time.
It should also not be overlooked that, just last year in Indiana, it was reported that attempts to monopolize the state's future marijuana market via the e-liquid or vaping laws were thwarted by Senate Enrolled Act 1. New markets are delicate, and introducing a new one worth billions of dollars has a way of attracting opportunists that might not care much about Indiana or Hoosiers.
Using the alcohol industry as an example, the ability to make coherent and appropriate policy decisions becomes far more difficult after markets mature and the interests are more purely driven by economics. Rep. Matt Lehman's proposal to study the issue is the right move for now.
As our pot laws creep into the zone of matching what Hoosiers want in their own lives, the General Assembly should continue to keep the creep's pace down to a crawl. On this one, we will thank them for it later.•
Click here for more Forefront columns.
__________
Leppert is a public and governmental affairs consultant in Indianapolis. He writes at HeartlandNow.com.Send comments to ibjedit@ibj.com.
Please enable JavaScript to view this content.