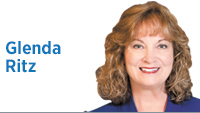 Members of our Legislature are once again discussing whether to mandate the teaching of cursive writing for all Indiana students. Sadly, because of steps taken before my administration, this conversation has to happen every session to ensure that our students are properly prepared to enter the workforce.
Until 2011, all Indiana students used to have the opportunity to decide on the mode of writing that best fit them and have the ability to read both print and cursive writing. This option was taken away from many students when Tony Bennett, then superintendent of public instruction, declared that providing instruction on cursive writing was a local decision.
After the 2012 election, Indiana revised its language arts standards but couldn't reach consensus on teaching cursive writing. However, a note was put into the standards that said the Department of Education "recommends the teaching" of cursive to students in third and fourth grades.
Since then, Sen. Jean Leising has introduced a bill every year to require the teaching of cursive writing. As superintendent, I supported her efforts and still do. Twenty-three other states have found they needed to take legislative action since 2011 to mandate cursive writing and 14 more are proposing legislative action. Indiana's business community and parents should demand that students receive cursive instruction because the ability to read cursive is still going to be needed in the job market.
The teaching of cursive writing enables students to have equity in employment opportunities upon graduation. Students who have been taught cursive writing will have an edge in the job market. To illustrate my point, consider this actual experience of my neighbor in a health care workplace:
A health care facility was planning a large fundraising event that would need many volunteers. A young woman approached my neighbor and offered to assist with the planning and was asked to take the handwritten, completed volunteer cards and place the names and information into a database. The young lady was excited to receive this task because she said she knew how to enter information into a database. However, the work was not completed satisfactorily due to many spelling errors. The young woman admitted she could not read the cursive writing on the cards. She had not learned cursive writing in school.
Our entire business community and society is not all computer-driven and online. People have not given up writing in cursive. People still submit handwritten complaints and compliments in cursive to businesses. Many careers demand the reading of cursive writing, such as historians or museum curators who must read primary historical documents, health care workers who must read medical records, or pharmacists who must read a doctor's handwritten prescription note. In general, research still plays a large role in our knowledge-based society, and many research projects involve the need to be able to read cursive-written documents.
I applaud the schools that have kept cursive writing as part of their curriculum and see the value of this preparation. They have redesigned the teaching of cursive writing by focusing on providing only the instructional/learning time needed to teach the formation of letters to write in cursive and to read cursive writing. Instruction is not the laborious focus on the perfection of writing in cursive we all remember from our elementary years. The purpose and focus on cursive writing should be adjusted with the changing times.
I applaud Leising's tenacity. Lawmakers should end this debate and realize that cursive writing is a part of a student's preparation for a career and provide equity for all students to have this skill.•
Click here for more Forefront columns.
__________
Ritz, a Democrat, is a former state superintendent of public instruction. Send comments toibjedit@ibj.com.
Please enable JavaScript to view this content.