Should CBD oil—a derivative of the marijuana plant—be available for sale in Indiana?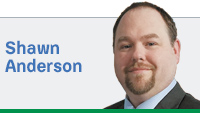 Cannabidiol—also called CBD—is a product that can be beneficial to many individuals. I am asked daily whether CBD should be available for all Hoosiers. With the evidence of the benefits of CBD continuing to grow weekly, I believe the real question should be, when will CBD be available for all Hoosiers?
Our customers who have benefited and enjoyed the positive results from the use of CBD products have become increasing frustrated by the confusion under state law and whether CBD will be available in the future. In addition, our commercial customers have faced numerous and expensive confiscations and other enforcement complications under an unclear law.
CBD is one of more than 60 compounds found in the cannabis sativa plant (aka industrial hemp) that belong to a class of ingredients called cannabinoids. Even though CBD is confused with tetrahydrocannabinol, it does not produce psychoactive effects and it helps provide a natural protection against the "THC high." In fact, here is a list of eight benefits of CBD: relieves pain and inflammation, has anti-psychotic effects, is used to treat seizures and other neurological disorders, reduces anxiety, helps fight cancer, relieves nausea, lowers incidence of diabetes, and promotes cardiovascular health. There are also studies on CBD's impact on inflammatory bowel syndrome, Crohn's disease, multiple sclerosis, rheumatoid arthritis, methicillin-resistant staphylococcus aureus (known as MRSA), and too many more to list.
Now that states have begun to address the opiate problem in the United States, another pain-relief medication has become the day-to-day treatment for many Hoosiers—nonsteroidal anti­inflammatory drugs, known as NSAIDs. These products include aspirin, Motrin and Advil, just to name a few. While many of us would believe NSAIDs are benign, a study by the American Journal of Medicine found that 107,000 Americans are hospitalized annually for gastrointestinal complications due to NSAID use. If the Centers for Disease Control and Prevention counted the number of fatal GI toxicity incidents caused by NSAIDs in its National Vital Statistics report, it would be listed as the 15th-most-common cause of death in the United States.
The Indiana General Assembly has introduced several bills this session in an effort to address this important issue. Worries over enforcement and product testing can be solved through a simple economical labeling solution using QR codes. QR codes are already used for a variety of commercial applications across a number of industries. Such labeling would allow for the inclusion of a certificate of authenticity from a third-party, independently certified lab. This would allow for monitoring by state officials without the time-consuming and expensive task of confiscating a product.
The support for CDB is not isolated and knows no age, race or socioeconomic class. Numerous consumers, producers and veterans groups across the state support an expansion of current law to make CBD widely available and to, I hope, ensure that all Hoosiers who use and benefit from CBD can continue to do so for the foreseeable future.•
__________
Shawn Anderson is CEO of Pure Stasis LLC, an Indiana-based CBD manufacturer. Send comments on this column to ibjedit@ibj.com.
Please enable JavaScript to view this content.