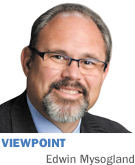 In 2011, Kevin Etzkorn of Heron Capital Equity Partners wrote an IBJ article titled "'Tsunami' of business sales coming soon" about the impending wave of business owners preparing to sell their businesses. This article affirmed what we all were hearing: Trillions of dollars in wealth would soon be changing hands. We had been waiting for this glorious time in our history during which the deal-making wells would be overflowing. Unfortunately, it didn't come then, but it might be here now.
So, what happened?
We underestimated the baby boomers' ownership resiliency. Most thought baby-boomer business owners would move toward retirement. However, the boomers saw it another way. They were healthy enough to continue leading their companies, the economy was coming back from the Great Recession, and they knew their retired friends weren't experiencing the retirement they had envisioned. 
The baby-boomer generation is healthier and more active than its predecessor generations. Today, the average life span has increased to 76.2 years for a male and 81.1 for a female. So, if one is healthy and mentally and physically capable at 65, why exit?
Additionally, the financial opportunities are more known and favorable in today's economic climate and bring more certainty than retirement and the unknown that accompanies it. Boomers also feel no reason to plan an exit until the business is worth enough to leave, intuitively recognizing the gap between the resources they have and those they'll need in order to exit on their own terms. 
There is also an attachment concern. A study by the Exit Planning Institute found that 76 percent of those business owners who successfully sold their business profoundly regretted doing so. Why? Their identity was the business. Many business owners who have been in the business for years have grown up with customers, competitors, vendors, etc., and those people mean more to the business owner than merely the role they played during the life of the business. 
All factors considered, it appears we're reaching the beginning of the real "tsunami." Valuation multiples are high. Private equity firms have $1 trillion in equity raised but not invested, waiting to be deployed. The credit market is eager to lend. Finally, the oldest baby boomers are now 72 and nearing the end of their average life expectancy. Seems like a perfect storm.
It is difficult to time any market, and this one is no different. We assumed 65 was the magic number for exits to begin. But what does retirement for the business owner look like in today's society? Retiring means divesting or distributing the saved nest egg versus contribution to and growth of the nest egg. The typical baby-boomer mentality is to save and grow, not the countercultural position of distribute and spend.
Retiring can mean, and be, different things to different people. The standard of working to 65 and then retiring is no longer the standard. The gap in retirement savings, increased longevity coupled with better health expectations, and the desire to keep working for the work's sake will alter how many live out their golden years in retirement.
That said, I believe more business owners today are moving toward their exit. With more successions being announced, deal activities nearing all-time highs, and the stock market soaring to near dot-com-bubble heights, if you are a business owner looking to time the market, it might not get better than this.•
__________
Mysogland is president of Legacy Transition Advisors and president of the Indiana Chapter of the Exit Planning Institute.
 
Please enable JavaScript to view this content.