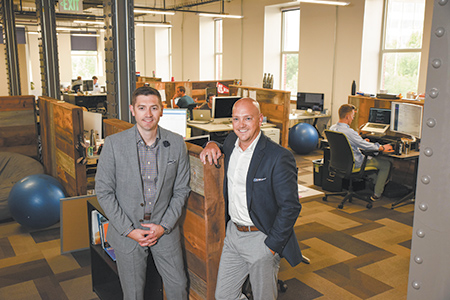 Springbuk, an Indianapolis-based health analytics software firm, announced Monday that it plans to add 100 high-tech jobs by 2020 after receiving $20 million in venture capital from investors.
The financing round was led by California-based HealthQuest Capital and Echo Health Ventures, a collaboration between Cambria Health Solutions and Mosaic Health Solutions. St. Louis-based Lewis & Clark Ventures and Indianapolis-based Elevate Ventures also participated in the round.
Founded in 2015 by Rod Reasen and Phil Daniels, Springbuk sells a human-resources tool for employers to track health care spending and outcomes in order to save money and improve employee well-being.
More than 1,000 employers use Springbuk's software, according to the company. In September, Springbuk told IBJ that it had 38 employees with six more hires expected within weeks.
The capital infusion is seen as a Series B round of financing, which typically is intended for established firms to grow to the next level and expand their reach.
"The Springbuk platform has been built to solve a very large problem—the rising costs of health care—and this round of financing is representative of the scope of the challenge that we've undertaken," Reasen said in a media release. "As someone who has spent over 20 years in the health insurance space, I believe that this platform will truly revolutionize the industry."
Reasen and Daniels said they had conversations with more than 75 venture capital firms nationally before deciding to partner with HealthQuest Capital and Echo Health Ventures.
"Springbuk has proven that employers play an increasingly critical role in reducing health care costs," said Dr. Garheng Kong, founder of HealthQuest Capital, in prepared remarks. "The software goes beyond historic reporting to provide HR leaders and benefit consultants with the intelligence and direction needed to tackle the rising costs and improve compliance of care for today's workforce."
Springbuk was born out of Healthiest Employers, an Indianapolis-based company that runs an awards program for employer wellness initiatives. That company, founded in 2008, grew its program to more than 45 U.S. cities and 18,000 contestant companies.
The program gave the company unparalleled access to the trends around health care benefits administration. It also led officials to realize that most companies had no way of tracking benefits spending to know if it was yielding results.
"Over the years, employer applications consistently scored low on the 'Reporting and Analytics' section of the award application," Daniels topld IBJ in September.
"That's really where Springbuk began—it was front-line expertise of the challenge employers face in gathering and interpreting data to make actionable decisions in their population," he said.
Mayor Joe Hogsett lauded Springbuk's latest plans for expansion.
"This investment in Springbuk is one that truly makes our city proud, as a homegrown company that harnesses technology to improve lives and bottom lines," Hogsett said in the release. "We look forward to the continued expansion of Springbuk and the 100 new high-tech jobs that are now on our horizon."
Lewis & Clark led Springbuk's $3.75 million financing round in May 2016, a capital infusion that helped fuel its growth. It had about 17 employees in the fall of 2016 and was housed in a north-side office building it was fast outgrowing. It now is in flex-lease space at Union 525 on downtown's south side.
Please enable JavaScript to view this content.