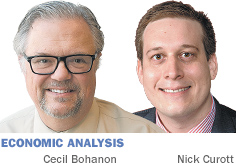 Indianapolis beat some stiff competition from other cities and is now among the 20 finalists being considered for Amazon's second national headquarters. With Indy's favorable business climate, affordable housing, attractive downtown and suburbs, and excellent institutions of higher education, this should come as no surprise.
Many believe landing Amazon would be a game changer; the prospect of winning is tantalizing. But this raises an interesting economic question: Just how much should public officials offer in their bid to lure Amazon? Our advice: Cool your jets and read recent Nobel Prize-winning economist Richard Thaler's 1988 article on the "winner's curse."
First coined by petroleum engineers, the curse is the tendency for the winner of an auction to overpay for an asset with uncertain intrinsic value. What an unexploited oil field is worth to a petroleum company depends on how much oil is in the tract. However, legitimate experts will quite normally have different estimates. So even if the experts are, on average, correct, the winning bid reflects the most optimistic estimate. The winner overpays for the asset, to it and its shareholders' regret.
Does this fit with cities' bids for Amazon? In our opinion, it fits to a tee. The actual impact of Amazon on its new host community will depend on Amazon's revenue and profit growth over the next 20 years. And who knows what that will be? Yes, its recent sales growth has been phenomenal—more than 20 percent over the last five years—and Wall Street is very optimistic about its future. But Amazon has a price/earnings ratio of over 300 and a market/book ratio of around 25. This is a textbook case of a risky asset. Estimates of its long-term value are all over the place and therefore particularly subject to the "winner's curse."
Add to this that those empowered to make Amazon an "offer" are not playing with their own money. State and local taxpayers are ultimately on the hook for whatever inducement, emoluments, sweeteners, promises or tax abatements are offered to Amazon. Snagging Amazon would be an immediate vote-getter for any elected official anywhere near the deal; the "powers-that-be" have no incentive to underestimate the benefits of securing Amazon for metro Indianapolis.
So, our advice: Beware, Indy. Yes, encourage those involved with making an offer to come up with an attractive package for Amazon. Then tell them to trim it down! Buyer beware!•
__________
Bohanon and Curott are professors of economics at Ball State University. Send comments to ibjedit@ibj.com.
Please enable JavaScript to view this content.