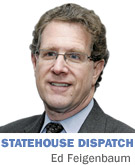 As the 2018 session opened, many lamented the absence of an overarching priority to focus legislative attention, potentially allowing members to migrate toward issues that could divide their respective caucuses, consuming important legislative time and calories.
Contrary to popular public belief, the session's driving issue is not Sunday-alcohol or cold-beer sales expansion. Republican Gov. Eric Holcomb and Republican legislative leaders continue to push back on opioid abuse and seek significant progress toward realigning education and workforce-development programs—addressing the multitude of agencies involved and programs they administer. They look to adjust K-12, higher education, and adult education and certification programs to skills Indiana employers consider imperative in coming decades.
Lawmakers who believe no change is in order or support only incremental steps are encouraged to visit the Subaru, Toyota or Honda advanced-manufacturing plants (or those of their suppliers). Or they could spend a few weekday-morning minutes in the lobby of Salesforce Tower in downtown Indianapolis (formerly Chase Tower). Here, straight-laced baby boomers in suits and ties and in dresses and heels heading to work in banking, law, insurance and corporate offices have largely been displaced by casually attired millennials collaborating in open spaces. These workers are making Indiana a leader in software, cloud computing, customer relationship management and areas largely not seriously contemplated by primary or secondary schools, colleges and universities, trade schools and adult education programs a decade or so ago.
As the Legislature approaches its first 2018 milestone (the deadline for chamber-of-origin committee reports is Jan. 31 in the House and the following day in the Senate), this is a vexing time for leaders. Committee chairs might have already heard bills they and leadership have agreed are most important. If they have time, they might now consider filling committee calendars with measures on which they feel some public (or peer) pressure.
House Speaker Brian Bosma, R-Indianapolis, and Senate President Pro Tem David Long, R-Fort Wayne, look to limit the oxygen such hot-button bills can consume while seeking not to offend caucus factions or significant party constituencies. Some of those parties are advocating bills for constitutional carry of firearms, for protection at conception for unborn children, or for pressure on professional sports teams and their athletes to respect the national anthem. 
Both veteran leaders are far more pragmatic (and arguably, a tad more moderate) than the majority of their respective caucuses. They both tend to lead collegially, but will occasionally use the stick to discipline wayward committee chairs or rank-and-file members. Neither has been seriously challenged for the top posts since they ascended (Bosma in 2004, with a four-year interruption; Long in 2006).
What might be more remarkable, however, is how few of their members have known any other leader.
Only seven House Republicans served under another Republican leader—and just one other at that. Nine GOP senators served under just one other Senate president pro tem. Few majority lawmakers have experienced how other leadership styles work in their respective caucuses. Many have also not experienced service under a Democratic governor.
There is a delicate balance between the majority advancing the agenda of a governor of its own party and leaders looking to keep their caucuses largely united toward a given end game while seeking to gain an edge on the other chamber and show a degree of legislative independence from—or at least parity with—the executive branch. 
Then there is public pressure. Be assured that lawmakers are hearing more about social issues than workforce concerns from constituents. Perhaps addressing only opioid-crisis concerns, which span (if not transcend) the social and workforce silos, will unite all the government, business and public players.
Fair, firm leadership is a legislative asset—and necessity—that Hoosiers have long taken for granted. Watch to see how Bosma and Long rely upon experience to keep their members on track next week—and through March 14.•
__________
Feigenbaum publishes Indiana Legislative Insight for Hannah News Service. He can be reached at EDF@hannah-in.com.
Please enable JavaScript to view this content.