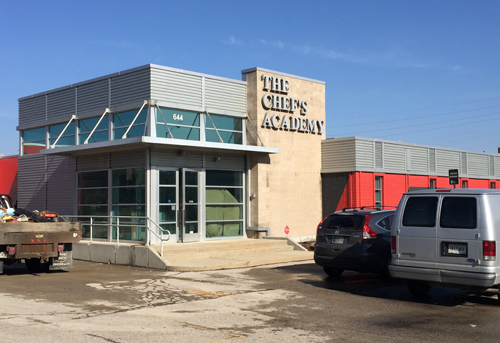 T2 Systems Inc. co-founder and car enthusiast Mike Simmons has bought a downtown building and is renovating it into an event and auto-storage space, where car club members can meet and mingle among their prized machines.
Simmons in October purchased the low-slung, one-story structure that formerly housed Harrison College's The Chef's Academy at 644 E. Washington St. and plans to invest $3 million in the project, including its $2.24 million purchase price.
The for-profit school early last year put the 27,000-square-foot building on the market along with its three-story, 50,000-square-foot companion just to the west, at 550 E. Washington St., which the college still owns and occupies.

Mike Simmons
Simmons, 55, in September 2016 stepped down from leading Indianapolis-based T2 Systems, the software parking firm he helped found in 1994. It was acquired by San Francisco-based Thoma Bravo LLC.
About the same time, Simmons began exploring how he could share his passion for cars with others, by providing storage and meeting space. He thinks his new project could become a popular destination during Indianapolis 500 festivities in May, and in December with attendees of Performance Racing Industry's trade show held annually at the Indiana Convention Center.
"I'm building a baseball field in the middle of Iowa," Simmons said, referencing the movie "Field of Dreams" from 1989, "and hoping people show up."
Simmons' long-lasting love affair with the automobile began as a teenager, when he owned a 1969 Camaro and his father a 1967 Firebird convertible. His collection today numbers a dozen vehicles and leans heavily toward European models from the 1960s to 1980s. Among them: a 1965 TVR Griffith and 1972 Pantera.
The main part of the Chef's Academy building, where classrooms were located and cooking courses were held, has been stripped of its walls to now boast a space large enough to hold 140 cars, Simmons estimated.
He's also in the process of receiving remaining construction permits necessary to build out the meeting and event space.
Simmons is still working out the details on how much he'll charge owners each month to store their cars. The fee likely will be tied to some sort of car-club membership.
"It's about having an automotive-themed destination downtown," he said. "We hope they will bring [their car] and share it with the people, and it becomes a collective of car people."
Dubbed the Silo Auto Club & Conservancy, the building will boast amenities such as wash bays for the vehicles and staffed security. The silo in the name refers to the "vault-like" facility.
Simmons has yet to begin marketing the space but plans to get started within the next few months.
He and his wife, Liz, moved downtown from Zionsville about 18 months ago. The idea of buying a building in an up-and-coming sector of the urban core appealed to Simmons.
"We feel that this is only a positive for the neighborhood," he said.
The building straddles the Market East Tax Increment Financing district, which the City-County Council voted to form in December 2016.  
The area has been energized by the construction of the new Cummins Corp. headquarters at Washington and Alabama streets and nearby apartment projects including the Artistry development and soon-to-open 360 Market Square tower. To make way for new development, TIF money could be used to demolish two nearby Marion County Jail buildings, the Downtown Heliport and a work-release center known as Liberty Hall.
Please enable JavaScript to view this content.