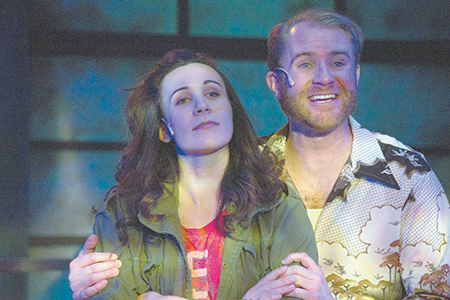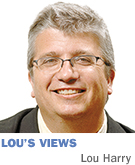 Antique hunters get excited over the prospect of finding items seemingly lost to history. It often doesn't matter if the discovery is in pristine condition or if all the pieces are intact. A big part of the pleasure comes from just experiencing something you thought you'd never encounter in person
Musical theater fans can be the same way. While you don't have to travel far or wait long to witness yet another production of "Annie" or "Fiddler on the Roof," you can go a lifetime without a chance to see "Hallelujah, Baby!" or "Redhead" (both of which won the Tony Award for Best Musical in their respective years).
So bravos should go to Buck Creek Players, the all-volunteer operation that, for years, has liberally sprinkled musical obscurities into its schedule. In past seasons, BCP offered "Parade," "Grey Gardens" and many other shows Hoosiers would have a slim chance of seeing otherwise. And, given some amount of latitude in the matters of budget and gratis talent, it offers respectable productions of these sometimes problematic shows. Plus fresh popcorn.
Its latest is "The Rink" (through Feb. 11), which centers on Anna, a long-suffering woman who has been running a seaside roller rink most of her life, even after her husband left. Her combative daughter, Angel, bailed years ago as well but returns just as Anna is about to cash the check from selling the rink and turn it over to a wrecking crew.
You'd think a musical by Kander and Ebb (the team behind "Cabaret" and "Chicago") with a book by Terrence McNally ("Ragtime," "The Full Monty") would have had a longer shelf life, especially when the original production featured Liza Minnelli and Chita Rivera. But the 1984 original was critically drubbed as a downer that perhaps would have been better suited to a smaller theater. A revised version—the one performed here—juggled some numbers and tinkered with the script without solving some core problems.
Still, there's pleasure to be had in the show and the production. In one of the musical's conceits that works, the guys on the wrecking crew take on the roles of other characters in the memories of these two women—not just Anna's husband but also boardwalk hoodlums, suitors and even a nun. There's a playful meta-level in having actual mother/daughter actresses Georgeanna Teipen and Miranda Nehrig take on the leads. Nehrig offers a satisfying rendition of one of the show's signature songs, "Colored Lights," to end the first act. And while the narrative wobbles remain—along with a few less-than-classic songs—the title tune gets a joyful go-round by the six wreckers, all on skates.
It wasn't clear how much of the wobbling and smile-inducing gracelessness was acting and how much was genuine terror at trying to skate while singing on a small stage, but the result was a memorable stretch of stage time.
BCP will close out its season in June with another find, the musical "Dogfight," featuring songs by the hot team Pasek and Paul, who penned "Dear Evan Hansen" and "The Greatest Showman." Next season, it will offer the local premieres of "After the Fair" and the spoof "Disaster! The Musical."
Long may it skate into such unexplored (at least, here) territory. And long may we have audiences willing to take chances on the less familiar.•
__________
This column appears weekly. Send information on upcoming arts and entertainment events to lharry@ibj.com.
Please enable JavaScript to view this content.