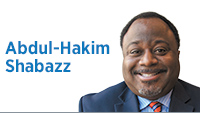 If you're a Democrat, do you think you should pay for a bunch of Republicans to decide whom they want to run for public office? Or if you're a Republican, should you dig into your pocket to help Democrats pick their candidates? And if you're an independent, you probably have no desire to pay for either political party's process for picking candidates.
Well, guess what: When we have primaries, that's what you're doing—funding both parties.
We are in the middle of the season for filing campaign-finance reports. So lots of candidates from across the state are going to the Office of Secretary of State, to the agency's elections division, or to county clerks' offices to drop off paperwork officially declaring their intent to run for office. And while I'm glad people want to participate in the process, taxpayers shouldn't have to foot the bill.
I am repeating my call for the elimination of taxpayer-funded primaries. I don't think the public needs to subsidize what's basically a private function, especially one that, in a lot of places, is a waste of time.
For example, 100 Indiana House seats are up for grabs this election season, but as I write this column, only seven spots on the Democratic side have contested primaries and eight on the Republican side. Most of those are in seats with no incumbent due to retiring lawmakers. Everybody else is getting a primary pass. On the state Senate side, 25 seats are on the ballot, but there are a combined three seats where voters will have more than one choice in the primary.
The point of a primary is for Democrats and Republicans to pick their candidates to present to the voters in the general election. So if they're doing the picking, they should also pick up the tab. I would view things differently if this were an "open" or "consolidated" primary system where anyone could vote and the top two vote-getters would face a runoff in the general election. But it seems like we're spending a lot of time, energy and money to recruit Election Day workers, rent space for polling places, print ballots and hire staff—only to have 38 percent of registered voters show up to cast a ballot.
So what do you put in place of the current primary system? Easy, a county convention. These are already done at the state and national level. Political parties and their delegates would vote at the convention to select a candidate to present to the voters. We already do this in Indiana with races for secretary of state, treasurer, auditor and attorney general.
Of course, there will be criticisms that this "convention" system will disenfranchise the public and put power back in the hands of insiders and party bosses So what? While there is no guarantee that a convention system will yield a better candidate, it does mean I won't have to pay for it. Also, smart and savvy candidates will figure out a way to get organized, get volunteers, raise money and win their party's nomination.
The current system needs changing. As long as primaries remain closed and voters have few choices, there's no reason taxpayers should open their wallets and foot the bill to do for political parties what the parties should be doing for themselves.•
Click here for more Forefront columns.
__________
Shabazz is an attorney, radio talk show host and political commentator, college professor and stand-up comedian. Send comments to [email protected]
Please enable JavaScript to view this content.