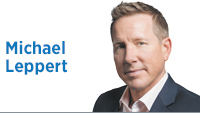 The New York Times published a column Jan. 25 by James B. Stewart headlined, "Is Indianapolis Cool Enough for Amazon? It Just Might Be." Might? On our best day, we might be.
We really need to have more of our best days.
I have lived here 30 years and I am a classic homer. For that time, there is no place else I would have rather lived, worked or raised my young adult sons. And since I am unquestionably cool, Indy must be as well.
In recent weeks, however, my hometown and state have seemed to work overtime to display how uncool we really are.
I have grown exhausted with politicians touting our excellent "business climate" as the reason Amazon and others should want to come here and grow. Even our relatively "low cost of living," fueled mainly by low property values, is another item that reads well on a stat sheet. These factors do play a role in our quality of place. But there are other factors we are simply ignoring.
The "quality of place" matters to everyone. Research shows it usually matters to younger adults at a higher rate than older folks like me. When a community is working to attract people, and their accompanying investment, it is advisable to have amenities attractive to people under 50.
The Times column pointed out many of our best cool factors. We know what they are better than The Times does. We also know what is uncool about us. I'm betting Amazon will find out, too, before it makes The Decision.
Indianapolis is facing the need to replace the I-65/I-70 merged highway and their north and south splits that dissect our city. This project could be transformational if city leaders concerned with quality of place were planning it. What the Indiana Department of Transportation has proposed is nothing more than the cheapest, most uncreative option available. It is designed to provide convenience to those passing through our town, to the detriment of those who live and work here. The state's quest to save money and time has driven officials to not seek better ideas or even see this opportunity for what it truly is: a chance to reshape our city.
Our Legislature, still in recovery from the RFRA debacle of just three short years ago, cannot find the courage to join 45 other states and pass bias-crimes legislation. What are legislators scared of? There are two cities in the final 20 competing for Amazon HQ2 without a state bias-crime law: Indy and Atlanta. Georgia has a bias-crime bill pending. As long as that bill is alive, Atlanta has at least that advantage over us.
Finally, our City-County Council is in the midst of embarrassing us in an unfathomable way. The coup, the follow-up coup, and all the related drama caused by Councilor Stephen Clay's desire to be president implies we don't know how to run a city. Is that a difference-maker? Maybe. It absolutely isn't a sales pitch.
Deals like the Amazon HQ2, and Salesforce before it, actually do hinge on quality-of-place ratings. We need to embrace our coolness like our future depends on it. RFRA threatened the Salesforce investment, not because the CEO didn't like it, but because he rightly predicted his future employees wouldn't.
The bottom line is that the term "quality" is broad. The three examples I cite are mistakes we are making that are unnecessary. They make us less cool and less attractive, and are inarguably eroding our place's precious quality.•
Click here for more Forefront columns.
__________
Leppert is a public and governmental affairs consultant in Indianapolis. He writes at HeartlandNow.com.Send comments to ibjedit@ibj.com.
Please enable JavaScript to view this content.