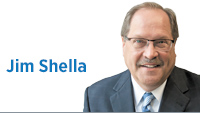 I don't know if Donald Trump deserves all the credit he's been taking for the improvements in the economy. I am pretty sure Barack Obama deserves some of it. But I also know that, if the economy were tanking right now, Trump would get all the blame.
Meanwhile, I'm doing my part to help build that economy. I recently bought a new car. It's an SUV, which I learned is considered a truck by the Bureau of Motor Vehicles. And that gets me to the point of this column.
The BMV, once a broken agency, is fixed. But so are some of the numbers used to prove that point.
The 2017 BMV annual report touts that the agency handled more than 13 million transactions and more than 4 million branch visits. It also has a graph that shows most customers getting in and out the door in less than 15 minutes.
My recent experience tells me the real numbers might be a little different.
Before I get into that, let me just say the BMV of 2018 is far better than the BMV of 15 years ago. I still have bright memories of blocking out a Saturday morning, arriving at the license branch before it opened, and lining up outside the door.
Then when the door was unlocked, there was a line to get a number, a scramble for seats, and a wait that often lasted all morning. People read books, took naps, groused and grew old.
It would be disloyal of me if I didn't point out that the culture at the BMV changed after a series of reports by my former employer, WISH-TV Channel 8, followed by campaign promises made by Mitch Daniels in 2004. As governor, Daniels delivered on those promises.
And now we have a BMV that is efficient—yet sometimes efficiency trumps true customer service.
When I arrived at a license branch to title my SUV, I quickly learned that only four people were waiting in front of me for the opportunity to check in, and I was in front of a clerk in a matter of minutes. But when I realized I forgot my insurance information in the car, that clerk became tense and impatient. I was told that, if I ran to the car to retrieve it, I would have to start the process (get a number, check in, get called by a clerk) all over again. "We're being timed," she said tersely. I could divide my business into two transactions and complete the second one after going to the car, I was told.
That made no sense. I elected to start over. So, that visit took less than 15 minutes, yet accomplished nothing.
The need for a reset was my fault, but I witnessed another customer going through a similar experience, also forced through the process twice. An elderly woman who didn't hear her number called was told to get a new number before a clerk relented and checked her in.
Analytics rule.
My second visit took about 15 minutes, but the entire episode took more, made longer by the clerk's unwillingness to wait for a document. That won't be reflected in the BMV numbers.
Personal, patient customer service is still a goal.
I guess if Trump can take credit for improving the economy, the BMV can take credit for great customer-service numbers—but neither story is entirely accurate.•
Click here for more Forefront columns.
__________
Shella hosted WFYI's "Indiana Week in Review" for 25 years and covered Indiana politics for WISH-TV for more than three decades. Send comments to ibjedit@ibj.com.
Please enable JavaScript to view this content.