U-Haul has bought a vacant big-box retail store on the east side and is converting the building into 1,000 storage units as part of a larger investment it's making in the area.
Menard Inc. occupied the 107,200-square-foot building at 6800 Pendleton Pike near Shadeland Avenue until mid-2016. That's when the Wisconsin-based home-improvement retailer opened a larger, 175,000-square-foot store that it built about a mile east, at the southeast quadrant of Interstate 465 and Pendleton Pike.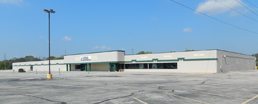 Menards vacated the property in mid-2016. (Photo courtesy U-Haul)
Phoenix-based U-Haul bought in late December the 9.5-acre lot where the old Menards store sat from a private owner that leased the building to the retailer. U-Haul paid $2.3 million for the property, according to state records, The storage facility should be finished by late summer or early fall, said Anthony Jones, U-Haul's central Indiana president.
U-Haul also is in the process of purchasing from Menard 3.5 acres to the west of the building, where the home-improvement retailer operated its lumber yard. U-Haul plans to use that structure for boat and recreational vehicle storage.
Overall, U-Haul plans to spend more than $1 million to convert the two properties, Jones said, noting that the company often eyes vacant structures for its storage facilities.
"We prefer to re-use buildings, so they don't sit around and create an eyesore for the city," he said. "With the box stores, they're pretty easy to convert. There's zero demo."
As brick-and-mortar retail continues to give way to the convenience of online shopping, more big-box buildings likely will become available.
Last month, Walmart Inc. closed two of its Sam's Club stores—at 10859 E. Washington St. on the east side and 3015 W. 86th St. on the northwest side.
And in June, Marsh Supermarkets sold the assets of 26 of its 44 remaining stores to Ohio-based grocery chains Kroger Co. and Fresh Encounter, leaving 18 empty.
One of the vacancies is near 86th and Ditch Road on the northwest side of the city.
"We're entering a phase of a new era, where these large vacancies of retail space may not get re-let or occupied by retailers," said Ross Reller, director of land services at Indianapolis-based Resource Commercial Real Estate. "The U-Haul adaptive reuse is the kind of thing that municipalities need to be open to."
U-Haul received approval from the city to rezone the former Menard property on Pendleton Pike and had the backing of neighbors, Jones at U-Haul said.
With 1,000 units, it will be one of the largest U-Haul storage facilities in the metropolitan area, he said. The building will boast high-tech security features and indoor climate-control options. U-Haul also will offer its traditional truck rentals, moving supplies and propane sales.
"The reason we purchased the property is that our numbers show that there is a vast need for a five-star [storage] product in that area," Jones said.
U-Haul already operates storage and moving facilities on the east side, at 2701 Shadeland Avenue south of East 30th Street and 8550 Pendleton Pike east of I-465. Both locations will remain open.
Menard's larger store that opened in June 2016, at 7701 E. 42nd St., was home to an ExtendASuites hotel. Overall, Menard bought six parcels from a handful of property owners to cobble together the land for the store.  
Menards was founded in 1958 and operates 35 stores in Indiana and more than 300 throughout the Midwest.
Please enable JavaScript to view this content.