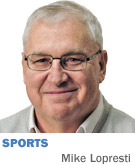 Josh McDaniels did … what?
OK, it's time for the guilty party to step forward. Who stuck the pins in the Colts' voodoo doll?
Shred McDaniels all you want for leaving the Colts with their mouths open and their head coach's office dark. On the sin-o-meter, does jilting rank above or below deflating footballs? Question his motive, his heart, his head, his word, his character. But that road goes in a circle and comes right back to this:
The team in blue is now the Bad News Bears. Anything that can go wrong, will. And lately, has.
Meanwhile, let's be blunt; what's ailing the Colts is hardly Josh McDaniels' doing.
The McDaniels era lasted only slightly longer than "Gone With the Wind." One minute, he was the offensive strategist to help Andrew Luck. The next, never mind. He was halfway to the podium to talk the next draft, when he flipflopped back to New England. If only the Indianapolis running backs could change directions like that.
This sort of thing doesn't seem to happen further up the NFL food chain. You know, where the Colts used to be?
There are any number of possible reasons for the Great McDaniels' Zig-Zag.
Maybe, as he was packing to leave for Indianapolis, someone came by his Patriots office and said, "Oh, by the way, you do realize there's going to be a head coaching vacancy here one of these days soon, right? Incidentally, what's your size in hoodies?
"And the box the fellows from Brink's are carrying in is just a small token of our appreciation."
Maybe he just got a look at Andrew Luck's latest MRI, and decided a 28-year-old quarterback with a balky shoulder is not nearly as appealing as a 40-year-old quarterback who just threw for 500 yards in the Super Bowl.
Maybe getting burned before as a head coach made him wary of anything but going to a solid contender. And this ain't it.
Maybe he saw what fate has been doing to the Colts lately, leaving a cursed quality to West 56th Street, and decided he didn't want to move into a haunted house.
Maybe he was a con man all along, oblivious to the welfare of others—such as the assistants he had already hired. Maybe, maybe, maybe.
What's not a maybe is this being low tide for the Colts. It usually takes several touchdowns to embarrass a team this badly.
Consider the current situation.
The franchise quarterback is gone for … well, nobody seems to know.
There are whispers about more surgery. Honestly, would you want to coach here if that's the case?
 
The most hallowed member of the team is the kicker, and he's older than Tom Brady.
The talent for swinging close games, and making the big plays to win them, has largely vanished.
The Colts once dominated the AFC South, just as Rome once dominated the world. And both were a long time ago.
The questions about rebuilding are many, the answers elusive.
Now, Plan A for the coaching position just turned into an exploding cigar in Jim Irsay's face. Plan B and C and D are off to other jobs, leaving the team in uncharted waters. Magellan knew where he was going better than the Colts do at the moment.
So the rush job to find a new man is on. Honk, if you want to coach the Indianapolis Colts. Revival was already going to be hard, and it just got harder. And we thought Indianapolis already had enough potholes.
By the way, your season ticket renewal form should be arriving in the mail any day.
Josh McDaniels now gets the Spike Lee Award for being the newest member of the Indianapolis enemies list. He doesn't look good in this, but the Colts have their own problems, and one of them might be that their general status is unstable enough to make a man think twice. Or 10 times. Presumably, he didn't have a non-refundable airline ticket to Wednesday's introductory press conference that will never happen.
Then again, maybe he and his family took a good look at Indianapolis and decided they didn't want to move here.
Let's hope Amazon doesn't find out.
Please enable JavaScript to view this content.