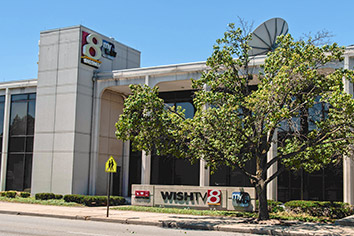 WISH-TV Channel 8 has hired a well-traveled news personality to fill the anchor spot vacated by David Barras, who retired Dec. 1 after 37 years at the station.
Mike Barz, an Indiana University graduate who has worked in Denver, Chicago, New York City and Jacksonville, Florida, among other locations, will begin co-anchoring WISH evening newscasts beginning March 26, the station announced Wednesday.

Mike Barz
Barz will join Brooke Martin to co-anchor newscasts at 6 p.m., 10 p.m. and 11 p.m.
"I couldn't be happier to return to Indianapolis and work for an iconic station like WISH-TV," Barz said in written comments. "As a proud graduate of Indiana University, this is like a homecoming for me, not to mention numerous family and friends who call the Hoosier state home."
Barz, who graduated from IU in 1993 with a bachelor's degree in broadcast journalism, has been an anchor at KDVR-TV Channel 31, a Fox affiliate in Denver for the past three years. Before that, he spent four years in Jacksonville for stations owned by Cox Media Group.
The 47-year-old Barz became well-known in Chicago media circles during a seven-year stint as a sports anchor and reporter with WGN-TV from 1998 to 2005. He moved to the national scene from 2005 to 2007 as a weatherman and features correspondent at ABC-TV's "Good Morning America" program.
He returned to Chicago in 2007 as morning anchor at Fox affiliate WFLD-TV. Barz received an early release from the station two years later after allegations of misconduct at an off-site party for a departing reporter, the Chicago Tribune reported in July 2009. Barz said accusations that he groped or fondled a co-worker at the party were "fabricated."
A Los Angeles native born as Michael Barszcz, Barz changed his surname in the early days of his broadcast career.
He got his start in broadcasting as an intern for the "Jim Rome Show" in Los Angeles. He also served time as a producer for Intersport Television, which develops network and cable sports programming.
His other jobs included anchor stints in Rock Island, Illinois, and in Green Bay, Wisconsin.
"Mike has built a solid career as a multi-talented journalist, and his enthusiasm for news will be obvious to viewers," Randy Ingram, WISH-TV general manager, said in written comments. "He's a skilled communicator and an award-winning anchor and reporter, with a personality and style as unique as WISH-TV. We're happy to welcome him back to Indiana and to our 24-Hour News 8 team."
Please enable JavaScript to view this content.