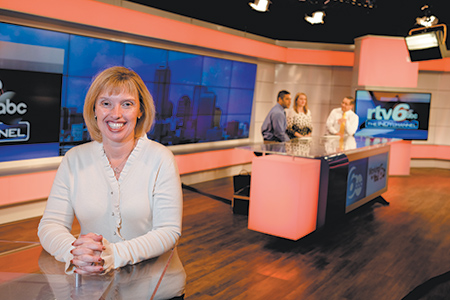 Lana Durban Scott is a lot of things.
Conventional isn't one of them.
So maybe it's no surprise she hasn't followed a traditional path to the top spot at WRTV-TV Channel 6.
She has little experience in sales or the business side of television, having spent most of her career in news. And she's never been more than an interim general manager anywhere, let alone at a major-market station.
Still, Scott is now vice president and GM at WRTV—only the second woman to ascend to that title in the Indianapolis market. The first was Linda Gray, who departed WXIN-TV Channel 59 in 2001. Gray had 12 years' experience as general manager when she took WXIN's top job.
None of that gives Ohio native Scott pause.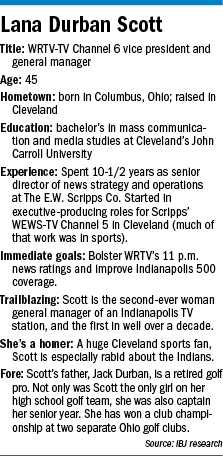 The sole female on the Elyria Catholic High School golf team and captain her senior year, Scott has been doing things her own way a long time.
"I'm non-traditional, and I think that's a good thing," said Scott, who took over at WRTV in early January. "I bring a different perspective because I didn't come up a traditional path."
Scott, 45, spent the last 10-1/2 years working as senior director of news strategy and operations at WRTV parent, The E.W. Scripps Co.
While she's not making a big deal about being the only female general manager among the six local TV stations (including public station WFYI-TV Channel 20), she added: "I hope it's significant in that it opens doors for others."
Besides, she added, "We need different perspectives. We're not all the same. I think it's good for everyone when you have a diversity of voices."
And Scott is jumping into the business and sales part of the industry with both feet, with plans to accompany WRTV sales executives on calls.
Local media buyers, a notoriously skeptical bunch, have given Scott early positive reviews.
"She's very authentic and open," said one local media buyer. "That's refreshing."
Scott said she aims to be "transparent" with employees and clients. "I'm a horrible poker player, but a very good friend," she added.
Another local ad buyer said, "Our agency is very excited to work with [Scott]. She seems to be a very out-of-the-box thinker."
She'll have to be. Larry Blackerby was the last permanent WRTV general manager. He departed last September after nearly seven years in the job.
"He was more reserved than Lana, but he was well-respected. And he couldn't make the needle move on ratings," a media buyer told IBJ.
Two sources close to WRTV told IBJ last fall that low TV news ratings led to Blackerby's firing.
As a result of those ratings, WRTV has some of the lowest advertising rates during newscasts among the five stations that air local news. WRTV's ad rates in some local news slots are one-half to one-fourth of what WTHR-TV Channel 13 and WXIN charge, media buyers said.
News background
Scott has a deep background in news, so it's no surprise that her focus at WRTV is on news.
She started in executive-producing roles for Scripps' WEWS-TV Channel 5 in Cleveland. She spent much of her early career working in sports. She was a regular on CBS' PGA Tour production team and was twice recruited by ESPN, according to industry sources.
She's still a die-hard sports fan and a feverish Cleveland Indians fan. She admitted the Indians' loss in the 2016 World Series still stings. Making matters worse, her husband, an executive producer at the Fox affiliate in Cincinnati, is a hardcore fan of the Chicago Cubs, who beat the Indians for the championship.
"It got a little weird," she said of the seven-game series. "During Game 7, my husband was downstairs and I was upstairs. There was no cheering allowed. By the end, I was screaming into a pillow."
Prompted by her bosses at Scripps, Scott began working more on hard news after the 9/11 terrorist attacks.
Asked why she's stayed at Scripps so long, Scott responded: "I believe in the mission. We're serving the communities where we do business, and that's something I believe strongly in."
Scott's only experience as a general manager came during two six-month stints as an interim GM—once at WEWS in 2014 and last year at Scripps' Omaha, Nebraska, station, KMTV-TV Channel 3.
That's led some in the local TV market to question Scripps' decision to give Scott the post, especially in the 27th-largest TV market out of 210, according to Nielsen Media Research.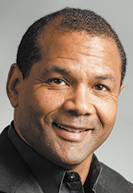 Bryant
"For this size of market, that's not a lot of experience, so I can see why some might question it," said Bruce Bryant, president of locally based Promotus Advertising. "But she's been at Scripps a long time, and they must see something in her that makes a good fit here."
Simple strategy
Scott has a relatively simple strategy for dealing with a sizable and somewhat complicated problem: WRTV has been at or near the bottom of local-news ratings for a decade.
While WRTV's ABC network programs score solid ratings—especially among women—all of TV is under assault as consumers of information and entertainment are lured away by a growing number of digital outlets.
Add into that, Indianapolis has five local stations producing—combined—hundreds of hours of news per week.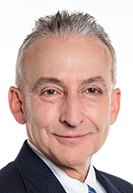 Ingram
"This is a very competitive local market with a very crowded news landscape," said Randy Ingram, who took over as vice president and general manager of WISH-TV Channel 8 a year ago and bolstered that station's news offerings.
"It's pretty unusual for a market of this size to have five local TV newscasts," Ingram said. "So it can be pretty difficult to gain any ratings points. It comes down to how well you cover local news."
Scott might be unconventional, but she's not delusional.
"Saying we want to be No. 1 everywhere is unrealistic," she said. "We're trying to build a foundation."
The first order of business, she added, is "building trust within the building."
"We work in an industry where rumors run rampant," Scott told IBJ from her office overlooking Meridian Street on the north end of downtown. "That happens here and at every other station in this industry.
"The ratings are what they are. We want to celebrate small wins, and give people a reason to come in here every morning and do their best work."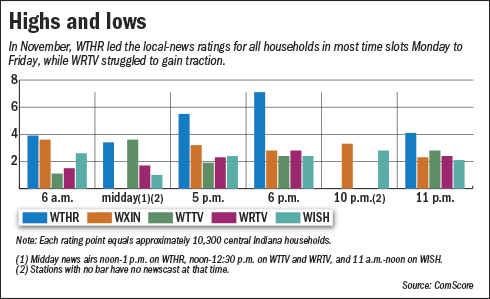 Focused on 11 p.m.
From a programming standpoint, Scott initially wants to focus on bolstering WRTV's 11 p.m. news and its Indianapolis 500 coverage.
When asked about potential on-air, staffing and other changes in the 11 p.m. newscast and beyond, Scott quickly responded: "Everything is on the table."
"Nothing will be done lightly or without a ton of thought," she added. "We have a lot of good people here. We have to look at, 'Are we setting them up to succeed?'"
Scott said the 11 p.m. news, where WRTV is already relatively competitive, is a ripe growth area due in part to ABC's prime-time programming.
"We have eyeballs that are sitting there waiting," she said.
Investigative reporting and storytelling will be emphasized, Scott said.
Local news is critical for TV stations because it accounts for 45 percent to 75 percent of revenue, depending on the station.
Local affiliates rely on their national broadcast partners for programming that includes national sporting events and popular syndicated shows. Not only do those shows bring lucrative—albeit limited—advertising sales opportunities, they also draw viewers who might stay for local programming.
ABC airs the Indianapolis 500 live nationally and tape-delayed locally, so there's a natural tie-in there. The network also has strong prime-time programming such as "Grey's Anatomy," "The Bachelor" and "Scandal". Those shows, media buyers said, are a natural on-ramp to WRTV's late news. The problem is, on some weekdays, those prime-time viewers have been turning the set off before the local news—or worse yet, tuning into a competitor's newscast.
"We have to give people a reason to stay up and stay tuned in," Scott said.
"The Indianapolis 500 is much more than a race," she added. "It's a great platform for the station, not only from a sales standpoint, but a rallying point for our team. I think better covering that event can have an impact on our bottom line, inside the building and in the community."
ABC's deal to broadcast the Indianapolis 500 and other IndyCar Series events expires after this year. Series officials are talking to various media companies about a new broadcast deal.
To Scott, it's not all about ratings.
Within her plans for the station are finer points that focus as much on what goes on inside the walls of WRTV's building as what's happening in the world outside it.
Scott is as eager to talk about team building and charity work as about bolstering the bottom line.
"I know that's not a rating point or a sale, but, to me, charity work and community involvement is a win," Scott said. "It speaks to what we do with the platform.
"I'm not saying business isn't important—it is," she added. "But [charity work] is important, too—to me and the company."
High turnover
Local media experts said Scott will have to address turnover at the station. Since Blackerby's departure, WRTV has had two interim general managers. Even more critical, the station has had significant turnover of its on-air personalities, especially among its anchors, which are the most critical positions for building a news brand and growing viewership.
Gevers
The station has kept meteorologist Kevin Gregory, Sports Director Dave Furst and investigative reporter Rafael Sanchez. But otherwise, "they've had pretty steady turnover," said Rick Gevers, an agent representing on-air talent who also pens an industry newsletter. "This is a market that really values familiarity, so that has hurt them."
Scott said WRTV's local TV ratings have lagged those of many competitors over the last decade because the station "lacked focus."
"We can't have shifting priorities," she said. "We have to find our voice and lift it up to offer something unique and relevant to people's lives."
When asked if WRTV can compete with local news leaders WTHR and WXIN, she conceded nothing.
"Absolutely," Scott responded. "Down the road."
Ask Scott about long-term goals, and she's not biting.
"I've never had an answer to the question, 'Where do you see yourself in five years?'" Scott said. "That doesn't mean I expect everything right now—and that certainly doesn't mean I intend to go anywhere. I haven't moved around in my career a lot, and I don't intend to start that now.
"What we're doing here—it's a marathon, not a sprint."•
Please enable JavaScript to view this content.