Fishers is likely to pay $15.7 million to acquire 70 acres of land along Geist Reservoir where officials want to build a park and beach—about $6 million more than it originally offered property owners.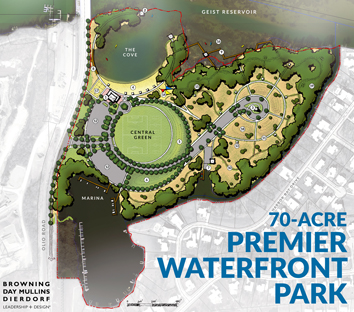 The new price was determined in an eminent domain proceeding by Hamilton County Court Superior Judge Steven Nation, who ordered an assessment by three independent appraisers to determine a fair market price.
Fishers last spring announced plans for the park on the last undeveloped property along the lake, which is largely surrounded by expensive homes.
Two property owners, Marina Limited Partnership and Irving Materials Inc., turned down a $9.7 million offer from Fishers, prompting the eminent domain proceeding.
Fishers proposed the park, east of Olio Road and just to the north of Waterway Boulevard, in May.
City planners said it was more important to let the land be used for a public park focused on natural amenities than for as many as 100 new homes.
The proposed waterfront park could feature an amphitheater, fishing dock, public beach, boardwalk, playground, beach volleyball, boat launch and trails. It could host activities including kayaking, triathlons, paddle boarding and adventure races.
Fadness told IBJ in May that the idea for the park came from a group of Geist residents who voiced concerns about boat traffic, quality of the water and over-development along the lake.
 
"There was a general consensus by the people who live directly on the lake that they were not only OK, but were actually in favor of, seeing some sort of public amenity, some sort of green space where the community at-large can have access to the water in a meaningful way," Fadness said. "I drive by that property every day, and I see it. … It just screamed to me that it needed to be a park."
 
The city plans to use bonds to purchase the property.
Ashley Elrod, spokeswoman for the city of Fishers, said negotiations will continue with the property owners and the price could increase or decrease slightly, but the $15.7 million is likely the amount Fishers will end up paying.
"People are generally supportive of the project," she said, and would prefer to see a park rather than more homes in the area.
Please enable JavaScript to view this content.