You can stop drinking out of the fire hose now and focus. 
The 2018 session of the Indiana General Assembly moves into its second half, and roughly two-thirds of the bills filed by early January are no longer of concern this year. 
Bills might have been introduced to appease constituents or special-interest groups and were not advanced by their respective authors. Measures might have duplicated others pending in the same chamber or across the Rotunda and all but one version fell by the wayside.
Some legislation wasn't afforded committee hearings in accordance with leadership or committee chair wishes or "time constraints" and some items were heard in committee for informational purposes only. Other proposed laws were defeated in committee or not called down for a final floor vote, and a veritable handful were even voted down in the full chambers.
Hannah News Service counted a total of 901 bills introduced this session. The House saw 452 bills, including House Joint Resolution 1. The Senate contended with 449 bills, including joint resolutions.
The second half opened with just 130 House bills active, and 172 Senate bills alive.
While some will be watching SB 236, designating Say's firefly as the official state insect, light up the voting boards on the way to Gov. Eric Holcomb for his signature, you might want to monitor a few other pieces of legislation between now and March 14 (or until Holcomb decides to sign or veto any that might reach his desk). 
And as you watch each bill, in this non-budget year you might also keep an eye open for just how much spending lawmakers might require or how much revenue they might deplete from state coffers in the form of tax expenditures—revenue forgone due to exemptions, exclusions, deductions, deferrals or credits to select groups of taxpayers or specific activities.
Bear in mind that one month past the midway point of the state fiscal year, total state tax collections are running almost $40 million (or 0.5 percent) behind the amount projected in April for the state's budget plan, the financial assumptions upon which the biennial budget were predicated.
Lawmakers are on course to pass HB 1001, which would provide up to $25 million to public schools this year to cover what is currently anticipated to be an $11.8 million shortfall in K-12 funding attributed to an increase in public school enrollment. 
The governor also wants subscription-based software (software as a service) exempted from the sales tax to help accelerate local high-tech growth. One recent industry estimate of the hit to the state was as high as $10 million annually, but nuances in the measure taxing other transactions could soften that impact.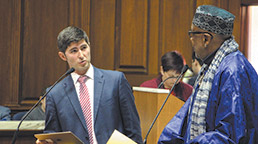 Rep. Timothy Wesco, R-Osceola, left, and Rep. Charlie Brown, D-Gary, debate legislation that would eliminate a fee for a lifetime gun permit and reduce state revenue. (Photo by Abrahm Hurt, TheStatehouseFile.com)
A bill sunsetting state lifetime handgun license fees is estimated to cost coffers as much as $6.7 million annually in the next budget cycle.
Tally all those outflows, add them to the ongoing budget plan shortfalls (and rapidly declining gambling tax revenue), and lawmakers might be expected to raise some concerns—but for the $2 billion state surplus and the seeming lack of concern both nationally and in Indiana about federal spending and growing national debt. 
The Senate's two key fiscal committees are under new leadership this year. How they choose to address House bills adding spending and trimming revenue might be an intriguing indicator of the Senate approach to the 2020-2021 budget next year. Workforce-development program changes alone might see the diversion of corporate tax revenue from the general fund back to those who generate it, a big-ticket item seemingly off the Senate's table this session.
This is the time when tensions can rise and the process can break down over assorted concerns. Bills that could prompt this: measures addressing school takeover criteria and implementation, payday lending expansion, and further regulation of abortions and deregulation of gun licensing.
What seems like a mundane session could yet become interesting. Or not.•
__________
Feigenbaum publishes Indiana Legislative Insight for Hannah News Service. He can be reached at EDF@hannah-in.com.
Please enable JavaScript to view this content.