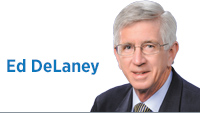 It is fundamental to our system of government that it be held accountable. This can be accomplished in multiple ways, including by the media and the electorate. But it is also fundamental that the branches of government account for themselves, i.e. evaluate and report on what they have done with the public's funds and its trust.
Indiana is falling short on this. We are now in the 13th year of one-party control of the Governor's Office and are starting our eighth year of one-party control in both houses of the Legislature. Yet, we rarely look back and report on the consequences and costs of programs we authorize or administer. Let me give you two examples.
Department of Child Services
The Governor's Office seems surprised that the resigning DCS director would make serious charges about the lack of support for our efforts to protect children. In response, the governor has retained an out-of-state consulting firm to review our efforts.
But we have faced repeated crises affecting this agency since then-Gov. Mitch Daniels undertook to reform it in 2005. There were personnel shortages, difficulties with local funding, and even problems with child deaths. Funding was particularly weak during the Great Recession.
We suffered through an expensive experiment with a centralized call center for reporting abuse. For years, we heard stories of overworked and underpaid caseworkers. Then the opioid crisis hit, driving up the number of children in need. The only surprise is that the executive branch took so long to start a real process of self-examination.
Meanwhile, the Legislature repeatedly passed budgets that underpaid and overworked employees, resulting in high turnover. The governor could have reviewed the agency and the Legislature could have conducted oversight hearings. These steps were not taken.
Economic development
Over the last nearly 40 years, we have sought to entice business to Indiana. In part, this has been done through programs aimed at training our workforce. But a consensus has arisen that we have too many programs in too many agencies. So the House has passed House Bill 1002 aimed to coordinate and manage what is thought to be $1 billion in widely dispersed training funds.
So what does the bill do? The bill starts out with nearly five pages of direction to the Legislative Services Agency, which is to help the Legislature know the "efficacy" of our training programs and be able to "make informed policy choices" about training. One would have hoped we were already doing that. The bill goes on to do two things of substance. One relates to our Regional Cities Initiative and the second to corporate taxes.
HB 1002 repeals the Regional Cities Initiative that was sold just a few years ago as a way to spread economic development across the state, region by region. That idea is being buried without a funeral, let alone an autopsy. We will not have a hearing on whether, how or why this effort costing some $125 million failed.
The bill also dedicates all corporate taxes (some $600 million to $700 million) to workforce training. Those funds will no longer be available for K-12 education, state police salaries or anything else. So we will set aside all these funds without any hearings on the impact on workforce, the overall budget or anything else. Again, there is no accounting.
The governor and the Legislature can oversee their own work, or they can overlook it. Guess which we seem to choose?•
Click here for more Forefront columns.
____________
DeLaney, an Indianapolis attorney, is a Democrat representing the 86th District in the Indiana House of Representatives. Send comments to [email protected]
Please enable JavaScript to view this content.