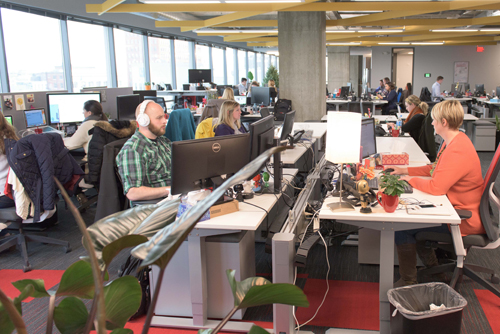 A new survey that takes a wide-ranging look of the local tech community reveals an industry that is growing quickly while still facing some economic and social challenges.
The "Indianapolis Tech Census Report" was released Thursday by Powderkeg Ventures LLC, an Indianapolis-based firm that helps connect high-growth tech ventures with resources that help them scale up. The survey of technology founders, professionals, investors and tech-community supporters was completed by 359 respondents.
Powderkeg collaborated with Raidious, an Indianapolis-based digital marketing agency, for the design and production of the report.
"The goal in distributing this survey was to provide a truly representative snapshot of the state of the technology community in central Indiana, our accomplishments and the challenges we face," the researchers said.
Growth evident
Big growth was evident at many of the 80 or so companies that responded to the survey, with 34 percent of the respondents reporting revenue growth of more than 100 percent in 2017 and 20 percent seeing revenue growth in excess of 200 percent.
The survey also shows an industry that is dominated by young and well-paid workers.
Sixty-three of workforce respondents reported annual salaries in excess of $75,000 and more than half made more than $100,000. Eighty percent of software developers surveyed were 35 or younger, with a third younger than 25.
Industry hurdles
Lack of access of capital was the primary issue identified as holding the local tech industry back. Nearly 45 percent of founder respondents cited lack of funding as the No. 1 issue.
Respondents also said the area's conservative nature and excess of humility sometimes made local leaders reluctant to take risks.
Social issues
Workforce respondents overall reported very high job satisfaction in their tech careers, but many said they'd like to see a more diverse workforce.
The highest percentage of census respondents (23 percent) said diversity and equality made up the social issue that they'd like to see the local tech industry most impact over the next five years.
Nearly as many (22 percent) said they'd like to see the community have a bigger impact on education.
About 25 percent of those who took the survey were female and 10.5 percent said they were part of an ethnic minority.
On a scale of 1 to 10, respondents gave the area tech community an average score of 4.4 for diversity and 6.3 for inclusivity.
Josh Driver, a survey respondent and founder of a tech startup Selfless.ly, said Indiana's debate over the Religious Freedom Information Act in 2015 created major awareness of diversity issues in the technology field.
"The silver lining in the RFRA debate is that it opened up an opportunity for Indy to take center stage by building tech companies and supporting not-for-profits that impact important social issues, like diversity," said a statement from Driver, whose company offers a platform to help connect volunteers, businesses and not-for-profits. "In order to do this, we must further embrace an open and diverse tech community, which includes sexual orientation, gender identity, race, ability, age and socioeconomic status."
Other findings
The wide-ranging survey also contained several other notable findings. Among them:
— About 72 percent of founders expect to sell their company, with the majority of exits expected within seven years. Almost four out of 10 expect exit valuations of more than $50 million.
— Marketing and sales software as a service, or SaaS, company respondents had the highest 2017 revenue growth rate, with 56 percent of companies reporting revenue growth of more than 100 percent.
— The majority of software developers have been members of the Indianapolis tech community for five years or less.
— A majority of entrepreneurial respondents (54 percent) are bootstrapping their companies, and 50 percent struggled to raise capital in the state.
— Two-thirds of investor respondents believe there will be more tech investment opportunities in central Indiana in the next three years, and 83 percent plan to invest the same or more into local companies over that period.
— Almost 70 percent respondents identified Fishers as the Indianapolis suburb that will see the most growth in technology companies over the next five years. Carmel was next at almost 16 percent.
Please enable JavaScript to view this content.