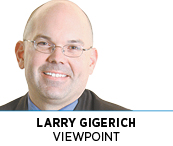 Indiana's elected officials, private-sector businesses and philanthropic organizations have collaborated with one another the past 15 years to position our state for economic growth. We have "set the table" for economic development success by improving our business climate, investing in infrastructure, and focusing on quality-of-place investments in the state. In order for Indiana to accomplish everything it wants for its citizens and businesses, it is time to realign organizational structure and increase financial resources for talent development.
Gov. Eric Holcomb, House Speaker Brian Bosma and Senate President Pro Tem David Long correctly noted that Indiana has too many training programs operating in too many silos to leverage the best results for Indiana—and things have to change. Earlier this month, Bosma was quoted as saying that "we're teeing it up for a major retooling next year." This approach will allow the state to examine the best ways to spend $1 billion per year on workforce initiatives.
Several key objectives are required to prepare the state's talent pool for high-demand jobs being created in Indiana. Some programmatic changes are currently working their way through the 2018 session of the General Assembly, while others will be addressed in the 2019 session.
This year, lawmakers are considering bills that would require all public K-12 schools to offer computer science for all grades by 2021; give Career Technical Education grant funds directly to the schools, co-ops and apprenticeship programs providing the instruction; offer more career-prep programs that allow high school students to pursue a credential, certification or apprenticeship program; and require schools to offer the Indiana Career Explorer Program to all eighth-graders beginning in 2019.
Looking forward, it is vitally important to consolidate programs into a handful of agencies. Currently, nine different state agencies touch the $1 billion of annual funds associated with workforce and talent development in Indiana. Some of these programs are mandated by the federal government and offer little flexibility, while others allow state and federal funds to be invested in creative ways to develop talent in a manner that meets the needs of Indiana's economy. A bottom-up review of all workforce programs is needed to determine which should be eliminated, restructured and/or created.
With Holcomb's appointment of Blair Milo as secretary of career connections and talent, Indiana has a great opportunity to develop a comprehensive vision and strategy for talent development that can be successfully implemented. Milo can examine what is working well and what is not in the state, and she can look at best practices from across the country and world to inventory ideas that can be adopted in Indiana.
An example of a best-practice, bold initiative is the Tennessee Promise program, which spends about $400 million annually to ensure that every Tennessean who wants to pursue a two-year degree, certification or credential program can do so at a higher education institution in the state. Each participant receives a mentor and is required to perform community service. This is the type of big thinking we need in Indiana.
Indiana has tinkered around the edges of workforce development for too long. We need to be bold and provide the necessary funding to be a global leader in developing talent. If we fail to get it done, our economy is at risk.•
__________
Gigerich is executive managing director for Ginovus.
Please enable JavaScript to view this content.