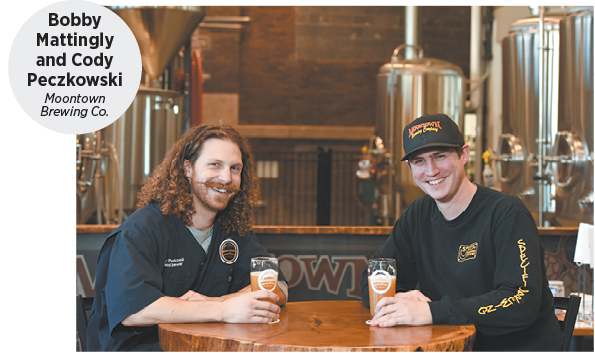 After years of dreaming and planning, Bobby Mattingly and Cody Peczkowski opened Moontown Brewing Co. in January. The 15-barrel brewhouse operates in the historic Whitestown High School gym. IBJ sat down with 31-year-old Peczkowski, who serves as head brewer, and 29-year-old Mattingly, brewer and general manager, to talk all things beer.
Where does the name "Moontown" come from?
Bobby: My brother-in-law grew up off of Moontown Road in Hamilton County in Noblesville, and when he was in high school, he and his buddies would go out and drink beer and have bonfires and parties without their parents knowing … . This had to be seven or eight years ago when he brought that up, and we were like, "OK, if we ever decide to start brewing, we're just going to call it Moontown Brewing."
But you are playing up the space theme…
Cody: We joke often and have fun with what we can. We do have an astronaut suit for Bobby to wear, and we've used that for welcomings and greetings. But we are not trying to pigeon-hole ourselves into one set theme or expectation for the place.
Bobby: People ask us and they're like, "Wait, these beers don't have a moon theme to them?" Well, that's because it's half moon theme and half whatever we want to do.
How did you guys decide what beers to start with?
Bobby: Between the two of us, we've got a pretty big stockpile of different recipes. Our draft list will generally have variety—it will have some traditional styles and some that are out there where we play around. But generally, it's just a mixture of myself, my dad's and Cody's recipes all just kind of thrown together.
What are your favorite beers?
Cody: I'm a dark guy… . My first beer was Goose Island Oatmeal Stout and I hated it. And I told myself I would learn to appreciate that beer—and I have.
Bobby: I just can't deny it, I'm a big hophead. I can't get enough of it … . So, I would say the [East Coast IPA] Cecil is my favorite.
Into the Void must have been really good the first time you made it, since you've kept it around?
Cody: Yeah, it was. It hasn't changed that much. There have been small tweaks, but that is the original recipe.
Where do you look for ideas?
Bobby: I look to John Kimmich with Alchemist Brewing in Vermont. I've gone twice, just to see what these guys are making. In Indiana, I'm a huge fan of 18th Street, Three Floyds, Bare Hands. And in Indy, Deviate Brewery … Black Acre, Chilly Water.
Cody: I like looking elsewhere… . But we do what we want to do.
This building had been vacant for years, so what made it attractive to you guys?
Bobby: History, mainly; it had good bones. The structure was still there. We really didn't do hardly anything to the main structure of the building. The only wall we added was a middle dividing wall. And we cleaned up some areas.
Indiana has some of the most historical high school basketball gyms in the country. And this is one of them. So, we were like, "Why not?"•
(IBJ photo/Eric Learned)
Please enable JavaScript to view this content.