The media has fragmented from relatively few outlets to a plethora of voices, particularly on the Internet. How will increasingly customized appeals to voters exacerbate the ability of elected officials to compromise on legislation?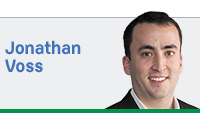 Have you ever read an article online that was shared by a friend or relative, completely agreed with it, then reshared it on Facebook or Twitter saying, "If only our politicians thought like this?" Similarly, have you ever read a message broadcast by a friend of yours regarding an article that you could not disagree more strongly with, so much so that you contemplated de-friending that person?
Eventually, your newsfeed will be full of perspectives you agree with, and absent that crazy relative's posts that make your eyes roll.
Welcome to the new media landscape. In an effort to attract and retain an audience, media companies large and small are devoting more and more resources to opinion-heavy content because many of us seek sources we agree with.
Conservatives are more likely to watch Bill O'Reilly, read Drudge Report and listen to conservative talk radio. Progressives are more likely to watch Rachel Maddow, read The Huffington Post and listen to NPR.
Social media enables us to share the stories we agree with. There's nothing inherently wrong with this, but such self-selection has consequences in our politics that are compounded by other, more sinister dynamics that have been around for some time, namely how politicians draw the lines for their own districts.
Gerrymandering exacerbates the impact of our self-selection.
Districts are drawn to ensure an advantage to the incumbent party in the general election. Accordingly, a member of Congress needs to worry more about a challenge from within his or her party in a primary than from the opposing party. (See the 2010, 2012 Tea Party primary challenges. The same dynamic is true for Democrats, but has been less noticeable in the recent past, in part because many lines were redrawn by Republicans in 2010.)
So when someone like congresswoman Michelle Bachmann says, "Obamacare kills people" and I roll my eyes in disbelief, I also know she isn't talking to me. She is talking to her fellow partisans—and her campaign backers will work hard to ensure like-minded supporters back home receive the message in their newsfeeds.
Ever more sophisticated technology allows political marketers to identify voters and deliver targeted messages those voters are more likely to find interesting.
To be sure, politicians still have to persuade undecided voters, but motivating and driving up turnout among supporters remains central to winning elections. This is especially true in districts drawn to benefit one side: Political survival depends more on avoiding a challenge from within the party.
In an environment where pleasing one's base is increasingly important toward re-election and that base is more likely to see media they agree with, there is often a political incentive to avoid cooperating with the other party.
Politicians want to get re-elected, media outlets want to retain an audience, and people seek comfort in the familiar.
Simply being willing to roll your eyes every now and then at an opposing viewpoint probably isn't enough to overcome these compounding factors, especially when politicians get to write the rules for their own game.•
__________
Voss is a Democratic pollster for Lake Research Partners in Washington, D.C. Send comments to ibjedit@ibj.com.
Please enable JavaScript to view this content.