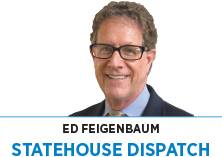 Last year, you learned about the state's youngest Democratic and Republican legislators teaming up to form the Indiana Future Caucus. They sought to address future-focused issues affecting young Hoosiers across party lines—the implications of which are becoming clear to their more senior colleagues. 
"This new economy affects [us] in so many ways," Rep. Todd Huston, R-Fishers, told Hamilton County's four chambers of commerce just this month. "We've built a lot of things off of taxes generated by car rentals, hotel room rental fees; we just didn't imagine how this new economy would affect our funding strategies."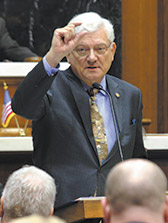 Rep. Ed Soliday, R-Valparaiso, is leading the state's effort to create rules for autonomous vehicle use in Indiana. (Photo courtesy of Erica Irish, TheStatehouseFile.com)
Huston graduated high school only months after "The Simpsons" debuted on Fox and the same year GM launched the then-innovative Saturn badge of cars, so he spans the difference in generational attitudes between those who grew up with rotary phones and smartphones, slide rules and tablets, and cars with seat belts as options and those with lane control and automatic parallel parking.
Yet as millennials question why we've always done things certain ways—even as market forces, public attitudes and technology evolved to render a given public policy, regulatory structure or even government involvement obsolete—a 72-year-old lawmaker paves the way for autonomous vehicles in Indiana.
Gov. Eric Holcomb, a Republican, asserted in his State of the State address that Indiana should prepare for the next generation of transportation by authorizing testing and operation of autonomous vehicles on Hoosier roads, creating an environment to foster research and economic development.
One would think this would be a perfect nonpartisan issue on which Rep. Dan Forestal, D-Indianapolis, could take charge. Not only does Forestal co-chair the Indiana Future Caucus, but he's the ranking Democrat on the House Committee on Roads and Transportation. 
Yet it was Committee Chairman Rep. Ed Soliday, R-Valparaiso, who took the wheel. Add up the ages of Forestal and his Future Caucus GOP co-chair and you still come up eight years shy of Soliday's years on Earth.
If you're lucky enough to visit Soliday at his Valparaiso home, he'll show you what he jokingly calls his wall of "me" in a basement home office—military and commercial aviation awards and memorabilia accumulated throughout his lengthy career, which included 35 years as a pilot for United Airlines. As vice president of safety, quality assurance and security during the 9/11 attacks, he coordinated United Airlines' crisis response, leading efforts to safely land planes still in the air at virtually any nearby airport.
So it was natural that Soliday, an experienced human-factors analyst who assembled Indiana's Next Level Roads plan last year—laying out the path to an intelligent transportation system—crafted the governor's autonomous-vehicle plan, offering basic accountability for safety until the feds supersede state regulations.
The Soliday bill, now in the Senate, establishes an automated-vehicle oversight group drawn from relevant state agencies (and some local officials as well), to hammer out standards with those affected on everything from necessary changes in state laws (Who is a driver? Must someone in an autonomous vehicle be licensed?) to liability (Are vehicle manufacturers responsible for mishaps? Software programmers? Vehicle owners?) and roadway design and construction. Assorted nuances will also be considered (May vehicle owners alter software? Can drivers override autonomous systems, and how and under what circumstances?).
The issues are exhaustive and perhaps exhausting for a non-millennial. But Soliday—who has professionally piloted generations of planes, from the propeller-driven Douglas DC-6 (which hit the market on his first birthday) to the still-produced Boeing 767-300, which uses CRT screens to display flight instrument and engine information electronically—embraces the task. 
As lawmakers confront technological issues affecting future Hoosier generations, millennials like Forestal will no doubt soon play a large part in shaping them as they work through assorted implications for the next economy. For now, though, analogous experience means that even those from past generations can still lead.•
__________
Feigenbaum publishes Indiana Legislative Insight for Hannah News Service. He can be reached at EDF@hannah-in.com.
Please enable JavaScript to view this content.