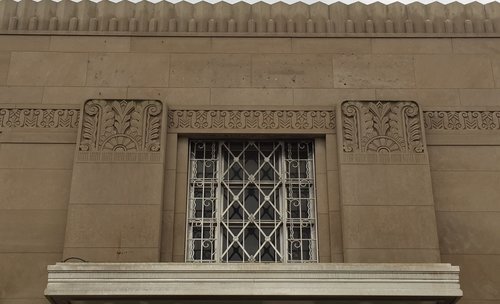 One day after closing his Stella restaurant at 611 East St. in the Mass Ave district, local restaurateur and chef Neal Brown disclosed he was moving on to an even bigger project.
Brown on Sunday said he and former Angie's List CEO Bill Oesterle plan to open a restaurant called Midtown Brasserie at 215 E. 38th St. in a 71-year-old former bank branch acquired in August by Oesterle and business partner Ed Sherman.
Oesterle and Sherman, who own Midtown Growth LLC, secured rezoning approval for the restaurant last week. The eatery is expected to open in September with outdoor seating and 72 parking spaces.
The 7,500-square-foot art deco building opened in 1947 as the Maple Road branch of Indiana National Bank. It was most recently a Chase Bank branch, but has been closed more than two years.
The vault and safety-deposit box areas will be incorporated into the restaurant's design, and the drive-thru's awning will cover the outdoor seating.
"First of all, that building is amazing and I'm beyond excited about the possibilities it offers," Brown, who lives near the building, said in written comments. "I expect to see a lot of my friends and neighbors coming in to see us and to help make this part of town a vibrant destination spot."
Oesterle said he is reviving the property in hopes that it will give the area a boost.
"One of the most enjoyable parts of this project was getting to know so many great people in the neighborhood associations around here," Oesterle said in written comments. "They had great ideas and are just as invested as we are in seeing this property put back to service in the neighborhood. Ed, Neal and I all live within a few blocks of it, love the area and are excited about the possibilities this and other planned improvements will bring about."
Oesterle said the building has space for an additional tenant in its basement level.
Brown did not comment on why he closed Stella, an upscale southern European eatery he opened last March to replace Pizzology, which he operated there about three years.
Brown owns and operates another Pizzology in Carmel as part of his Neal Brown Hospitality Group. He also operates Ukiyo at 4907 N. College Ave. and the Libertine Liquor Bar at 608 Massachusetts Ave.
Stella received mostly positive reviews but faced heavy restaurant competition in the Mass Ave area, which has seen a number of recent closures, including Hoaglin To Go Cafe & Market, Broken Beaker Distillery, The Owner's Wife and Old Point Tavern.
Brown leases the Stella space, a spokeswoman said. She said future plans for the space are undetermined.
Oesterle said he is encouraged by other developments in the works for the 38th Street area near the new restaurant, including a grocery store and a 140-unit apartment building.
"There is a tremendous amount of investment going on in the 38th Street and Illinois area and this project just adds to the momentum," Oesterle said. "We couldn't have found a better restaurant partner than Neal, who shares our desire to help restore this neighborhood–our neighborhood–to its former glory. I can't wait to see what happens next."
Please enable JavaScript to view this content.