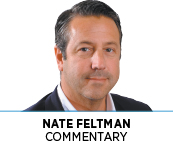 Dear Mr. Bezos:
I'm writing you to provide a few insights about our city and state that might not be readily apparent as you whittle down the list of 20 finalists for HQ2. In my letter to you last month, I touted Indiana's history of good government and fiscal discipline in an effort to persuade you to look beyond the monster incentive packages that will be offered by other locales. Because incentives offered by governments expire within a set time, Amazon will of course want to locate where it and its 50,000 HQ2 employees can prosper for the long term.
Indiana has a long record of providing its businesses a low-cost advantage and its citizens a relatively low cost of living. This long-term advantage is only possible when governments are well-run and consistently live within their means. Your wish list for HQ2 included "a stable and business-friendly environment." You can check that box for Indiana.
Another important factor listed in HQ2 RFP is a "cultural community fit." This can mean many things to different people, but I am going to posture that you desire to locate HQ2 in a community where (1) Amazon can play a significant role in creating an environment that is conducive to attracting the best and brightest, regardless of gender, race, nationality or sexual orientation and (2) the values Amazon embraces will be embraced by the community.
You and Amazon have long embraced equality as a core value. In a speech at the Human Rights Campaign's annual dinner last year, you stated: "We want our employees—and the communities where we operate—to embrace that we're all human, we're all different, and we're all equal." You went on to say, "We shouldn't just look past inequality. We should expose it, understand it, question it and fix it."
So how does Indy rank on the "cultural community fit" metric? Indianapolis enjoys a long history of civic leadership whereby our for-profit and not-for-profit leaders roll up their sleeves and collaborate with political leaders to advance our city and our state. Whether it is the redevelopment of our downtown, or promoting and investing in our sporting and convention industries, or standing up for what is right, Indy's growth and development over the last several decades would not have occurred without our strong civic culture. Our city and state embrace our business leaders and count on their guidance to move our city and state forward.
A case in point: In 2015, our Legislature sent the Religious Freedom Restoration Act to the desk of then-Gov. Mike Pence. Pence signed it, setting off a maelstrom of controversy in Indiana and beyond due to aspects of the bill viewed as discriminatory against the LGBTQ community. Indianapolis' business leaders came out in mass against the law. The CEOs of Angie's List, Anthem, Cummins, Dow AgroSciences, Eli Lilly, Emmis, Indiana University Health, NCAA, Roche Diagnostics and Salesforce all called on the Legislature to repeal or amend the legislation in order to prevent discrimination based on sexual orientation or gender identity. Within a week, the Legislature amended the law to clarify that it cannot be used to discriminate based on sexual orientation or gender identity, and Pence signed it into law.
To use your words, Mr. Bezos, many of Indiana's top business leaders didn't look past inequality. Rather, they worked diligently and collaboratively to expose it, understand it, question it and fix it. This is the culture Amazon would join, a culture where Hoosiers embrace civic leadership and civic leaders embrace Hoosiers—all Hoosiers, including future Hoosier Amazonians! •
__________
Feltman, an attorney and former secretary of commerce for the state of Indiana, is a shareholder in IBJ Corp., which owns Indianapolis Business Journal. To comment on this column, send email to nfeltman@ibj.com.
Please enable JavaScript to view this content.