Your touchstone Western might be "Dances with Wolves." Or perhaps you prefer Clint Eastwood as the Man with No Name in the "Dollars" trilogy. You might be a fan of old-school adventures such as "Stagecoach" or lean toward revisionist fare such as "A Man Called Horse" or "Little Big Man." Perhaps you get your kicks from the comedy of "Blazing Saddles" or prefer to sing along with "Oklahoma!"

Whatever the case, there's no denying the cinematic Western has helped define America—for good or ill. Its iconic symbols and moralistic messages have influenced not only how we see ourselves, but also how people around the world see us. From kids playing "cowboys and Indians" to adults believing in the idea of the lone hero who can tame a town, Western imagery and ideas permeate American culture. And while not as popular as it was in its Hollywood heyday, the Western genre continues to produce movies that help shape our thinking.

Westerns "say more about the time that they are created than the time they represent. It's not about what people valued in 1888 but what the filmmaker and the culture valued when the film was made," said Johanna Blume, associate curator of Western art, history and culture at the Eiteljorg Museum of American Indians and Western Art.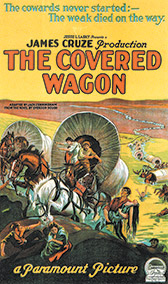 "The Covered Wagon" (1923) is credited as the first big-budget, epic Western. (Image courtesy Hershenson/Allen Archive)
That's what she hopes comes through in the Eiteljorg's new show, "The Reel West," kicking off with a premiere party March 2 and officially opening March 3.

It's easy to forget how popular Westerns once were, Blume said. At their peak in the 1940s, cinematic cowboys such as Gene Autry and Tim Holt starred in six or seven movies a year, usually quickly produced, formulaic flicks that numbered in the thousands and are mostly forgotten.

In putting together the exhibit, Blume viewed more than 100 films and helped shape the wealth of material into three sections: Morality, Diversity and American Identity. The resulting show takes visitors back to the silent era, not just for a look at "The Great Train Robbery," credited as the first Western, but also to lesser-known fare, such as "White Fawn's Devotion," a 1910 film considered to be the first directed by a Native American.

It includes a mini movie theater playing vintage trailers (including one for the science fiction Western serial "The Phantom Empire"), props and costumes on loan from studios and private collections (including Kevin Costner's "Dances with Wolves" get-up, John Wayne's shirt from "The Searchers," and Yul Brynner's black top from the original "Westworld"). The Lone Ranger and Zorro are also in the lineup of familiar characters.

But rather than a straight-up celebration, the exhibit looks at the good, the bad and the ugly of the genre, including what Blume calls "the toxic masculinity of Westerns."

"And we're looking at how, for such a long period of the time—and it still is a problem today—non-native actors playing native roles. When looking at native representation in Westerns, we also try to look at efforts to remedy that, with examples mostly from the present day."br />
Pulling together pieces for the exhibition wasn't always easy. "A lot of people [in Hollywood] don't think of the movie-magic aspect of it," Blume said. "Just because something was used in a great film, doesn't mean it was set aside and preserved as a special artifact of that film. It goes back into the costume shop and is reused. A lot has been lost or repurposed so often that it's unrecognizable."

What films would Blume recommend a neophyte to the genre watch before visiting "The Reel West"?

"In no particular order, 'The Searchers,' 'Silverado,' 'Stagecoach'—definitely 'Stagecoach.' I think some of the early Clint Eastwoods … and 'Pale Rider.' And for something more contemporary, 'Django Unchained' and the new 'Westworld' series, which takes the genre and does something different with it but has plenty of callbacks to classic Westerns. And 'No Country for Old Men' … and the series 'Longmire.'"

The exhibit will be on display through Feb. 3, 2019, with plenty of additional programming throughout the run. It will include lectures from Emmy-winning screenwriter Kirk Ellis (from the miniseries "Into the West"), food talk with author/historian Sherry Monahan, music pairing the Indianapolis Chamber Orchestra with the silent comedy "An Eastern Westerner" and more.

And, of course, films will be screened, including "Tom Horn," one of Hoosier Steve McQueen's last films (April 7), "Toy Story 3" (May 19) and "Silverado" (June 2).•

__________

Eiteljorg Museum of American Indians and Western Art