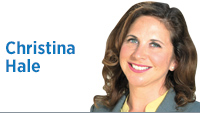 Were you surprised to hear that another kid at another high school gunned down his peers?
That's what I thought. Horrified, upset, angry, depressed maybe, but likely not surprised. This has become part of our new normal.
We hope young people are called to action by grand ideas and inspiring leaders, not by bullets or by the blood of their friends, killed not in war but in times of peacetime and plenty.
Kids and teens are exposed to more raw violence than ever before in history, in traditional mass media and as a result of technology. Technology that enables very-real-feeling virtual-reality role-playing games and the ability to play murder for fun.
We also know now a great deal more about brain science and the impact of adrenaline on the developing brain, and how living in violent homes can keep the brain from hard-wiring and maturing in the way it should that leads to good decision-making and calm in later life.
It is hard to predict what happens next in this time when our kids are growing afraid of one another. Afraid to go to school not because they didn't do their homework, but because they don't want to get shot by a peer.
Still, even as we strategize our way out of this very complex problem, there is hope. These kids are seizing their power to take a stand in sophisticated and effective ways unique to themselves.
You might have seen them interviewed or listened to their concerns at your own dinner table. The interesting thing is that these young leaders are taking the next step to organize around advocacy for the issues they find to be key to their future, and for the kids that follow them as well.
I think of some of the Hoosier kids I know—amazing kids of strong character motivated by causes bigger than themselves—kids like Zoe B., Zoe E. and Eli G. All of them engaging and encouraging their peers to get involved to drive positive change for one another, and for their little brothers and sisters coming along behind them.
These young people are solution-oriented and specific about how to help. Rather than just protest or express anger, they are advocating for well-thought-through solutions.
Please stop to talk with the students you know. You might be remarkably surprised by their mature command of the facts and by the solutions they advocate.
These young people also compose the most media- and market-savvy generation this planet has ever seen. They might be too young to register to vote, but vote they will with their clicks, likes, tweets and spending power. They are a generation, but they are also a market, and they really get that.
As does corporate America.
This is a big deal. It will not blow over. And our youth are coming into their own. Whatever side of the debate you align with, we all agree school shootings need to stop. Let's recognize the good that will come from the bad, and take confidence that Zoe, Zoe and Eli and all the other kids like them have our backs. And more important, they are motivated and empowering themselves to watch out for one another's.•
Click here for more Forefront columns.
__________
Hale is a former member of the Indiana House and ran for lieutenant governor in 2016 on the Democratic ticket. Send comments to [email protected]
Please enable JavaScript to view this content.