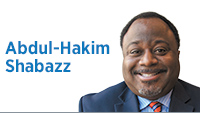 To coin a phrase, "Indianapolis' long national nightmare is officially over." Granted, it lasted only six weeks, but the governing body of this great city was mired in chaos and dysfunction when now-former (That has a beautiful ring, doesn't it?) City-County Council President Stephen Clay, with the help of some fellow Democrats and a mix of angry and opportunistic Republicans, managed to swing a coup that would make a Latin American dictator proud.
Clay's ascension to council president created divisions and fissures in local politics the likes of which I have never seen. Clay was already a divisive figure, with a checkered past, to begin with—allegations of sexual misconduct by a minor, a $14,000 default judgment levied against his church for failing to pay for office equipment, disparaging remarks accusing IMPD of being racist. And that was all before the deal he cut with Republicans to give them committee assignments and then what I could argue was the illegal firing of the council clerk, which cost the taxpayers at least $395 an hour in legal fees.
Now he is gone, and not just from the presidency. On Feb. 23, a council committee consisting of new President Vop Osili, Republican Minority Leader Mike McQuillen and Democratic Majority Leader Monroe Gray approved a new list of committee assignments and Clay was removed as chairman of the Public Safety Committee, a position he appointed himself to shortly after the coup.
I am told Clay is despondent and still can't believe what happened. He is not the only one. He was backed by a group called the "Concerned Clergy," a group of African-American pastors who are really more like "Afri-can't" Americans because they have a bad habit of backing the wrong horse when it comes to the significant issues of the day.
They backed the losing slate of candidates in the last Indianapolis Public Schools election. They called for massive protests of a November visit to Indy by U.S. Attorney General Jeff Sessions to study how the Ten Point Coalition has helped reduce crime in some of the city's most dangerous areas. It turned out more people participated in the news conference than showed up to protest.
Given the group's track record, I should have known their support would ensure Clay was not long for this political world.
It's people like Clay and his supporters who give Indy a bad name and it's why they should never be allowed anywhere near power or authority. Clay's reign hurt Indy's reputation as a functioning city, and he cost Marion County taxpayers thousands of dollars in legal fees. And that was with only six weeks on the job. Can you imagine how bad it would have been had he been there six months? By the time Clay and his cronies were done, this city would have been one giant political pothole.
Luckily, Clay's reach exceeded his grasp, which gave the council the opening it needed to remove him. Now we can focus on crime, infrastructure and economic development. The era, make that error, of Stephen Clay is over. Unfortunately, he is still on the council, but if there's a God, the May 2019 municipal primary will take care of that, and then he really will be the biggest loser, in more ways than one.•
Click here for more Forefront columns.
__________
Shabazz is an attorney, radio talk show host and political commentator, college professor and stand-up comedian. Send comments to [email protected]
Please enable JavaScript to view this content.