Do student journalists need additional free-press protections, as was proposed in House Bill 1016?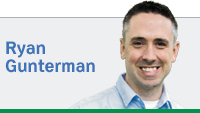 Plainfield High School student journalist Anu Nattam knows censorship. As an editor, she has been ordered to delete a quote detailing an overcrowded classroom, remove health insurance information because those without it might feel bad, and change the name of her newsmagazine because "The Shakedown" has "mafia connotations."

All this suppression stems from a nationally award-winning issue about dating created by Nattam and her peers. Because even though the word "sex" never appears in the 24-page newsmagazine, the publication does acknowledge teenagers sometimes like each other and the existence of the LGBTQ community, among other things.

Here's what they received for their efforts:

◗ Their beloved, award-winning teacher, who has two decades of experience in journalism education, was attacked on social media by a school board family member and called into question by the same administrators who recognized her as a top educator less than a year ago.

◗ They lost whatever press freedom they had and now must submit all content for approval by a panel of school officials who don't even possess a fraction of the journalistic skill exhibited by these students on a daily basis.
Welcome to Indiana schools, where the First Amendment is merely a portion of a social studies exam. It's a world where educators must make a choice—teaching American values or disrespecting them.

About a month ago, I asked 121 Indiana student-media advisers to pose the following question to their students: "If you could write about anything you wanted without fear of censorship, punishment or judgment, what would it be?" Here are just a few of the topics Hoosier students admit to dodging due to a climate of suppression:

◗ Bullying of students with special needs

◗ Keeping a Christian mind-set as a teen

◗ Mental illness

◗ Lead in school water

◗ Signs of abuse and how to report it to school officials

◗ Suicide prevention

These and other responses made three things quite clear:

◗ Life-altering, and even life-threatening, topics are being ignored or addressed without the guidance of a trained, professional adult. If House Bill 1016, defeated last month, had become law, these issues could have been confronted in a productive manner with the assistance of a licensed journalism educator.

◗ Students are not interested in covering topics for shock value. They want to save the world, not watch it burn. If HB 1016 were law, they would be permitted, even encouraged, to discover solutions to issues adults don't even know exist.

◗ Fear of punishment to themselves or their adviser is causing students to self-censor. If HB 1016 were law, those responsible for the future of our democracy would actually be permitted to practice democracy.

And therein lies the problem with HB 1016's defeat. Much in the same way Plainfield High School shows its students their voices are not always valued, the House told all Hoosier teenagers their rights are not always cherished.

Legislators had the chance to proclaim Indiana does not stand for un-American censorship, and that educators should encourage, and produce, an active citizenry.

Instead, they made it clear that total control of a school is more important than the individuals who attend it.•

Click here for more Forefront columns.

__________

Gunterman is executive director of theIndiana High School Press Association. Send comments to ibjedit@ibj.com.