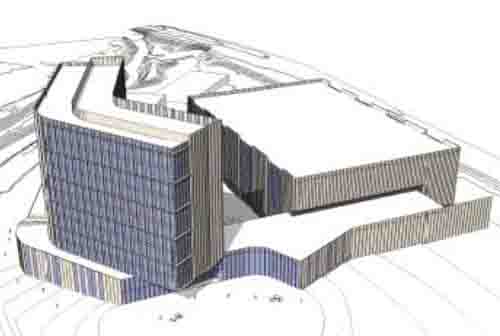 Plans are already in place for Indianapolis' new criminal justice center to be run by the Marion County sheriff's department—not a private company—when it eventually opens.
And a key member of the Indianapolis City-County Council wants to make assurances that it stays that way.
Council Vice President Zach Adamson has proposed an ordinance that "requires the administration and operation of the county jail facilities be non-privatized beginning in 2023."
He said he wants to "just codify in law that this will not be, nor in the future be, a for-profit, privately run jail facility."
"That doesn't mean that could not change," Adamson said. "That just means a future administration that decides to change that concept or the way they're managing, they have to go through a public process to undo it."
The current County Jail II is privately run, but the Hogsett administration plans to dissolve the contract with the company when the new criminal justice center opens. Corrections Corp. of America, which recently rebranded itself as CoreCivic, has managed that facility since 1997, according to its website.
The criminal justice center will replace not just Jail II, but also Jail I, the Arrestee Processing Center, and Hope Hall. Besides Jail II, the rest of those facilities are run by the Marion County Sheriff's Department. The new center is expected to have 2,700 general population beds, 300 specialty, mental-health focused beds, and education and job-training facilities.
The Council in late January unanimously voted to spend $55 million to pay for initial construction costs on the $571 million center.
In a March 2017 memo from the mayor's corporation counsel, Andy Mallon, to the Indianapolis Criminal Justice Reform Task Force, Mallon states the recommendation that "the Consolidated County Jail not be operated by a private entity with private detention personnel, but rather that it be staffed by the Marion County Sheriff's Office."
"All we're doing is codifying what has already been said would be the practice," Adamson said. "Everyone has been supportive of that concept. There shouldn't be a whole lot of difference."
Adamson said he's not worried about the Hogsett administration's operation of the jail—but of future mayors who may want to pursue a private contract.
Adamson said it's also a social justice issue for him and that it "weighs heavy on my heart and a number of constituents."
"The larger issue that permeates this is the overarching disproportionate number of people of color who are in the correctional facilities, whether it be jails or prisons," Adamson said. "In my district, which is about half African-American and other minorities, it's a very serious concern."
The proposal is being co-sponsored by fellow Democrats LaKeisha Jackson and William "Duke" Oliver. It was introduced Monday and will require approval by both the council's public safety and criminal justice committee and the full council.
Adamson said Monday that he would be "making phone calls in the coming days" to try to drum up support from the rest of his caucus.
 
Please enable JavaScript to view this content.