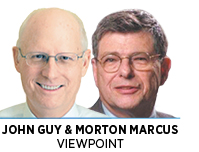 She stands all day. He stands all day.
You know her. She's at the checkout in your neighborhood grocery. As cashier, she stands in place, occasionally rocking back and forth on her heels and toes, turning in a 180-degree arc between the computer/register, acknowledging the customer, and sending scanned items on the slide to her left. A stranger once asked why she must stand all day. She said she has no idea.
On weekends, she is a greeter at a box store, saying hi and checking membership cards from a single spot near the front of the store. She's on her feet all day. Management brought her a bar stool one day because she had a sore back from playing pickle ball, but whenever she used it, management gave her the evil eye.
You know him. He is a check-in clerk at Indianapolis Int ernational Airport, where he remains upright all day alternating between pushing buttons that generate claim checks and boarding passes while lifting 40- to 50-pound luggage from the stainless-steel scale to the moving belt behind. A stranger asked him the same question: Why must he stand all day long? He gave the same answer: "I have no idea."
No one will explain. Calls to a retail association, the regional management of the grocery store, national management of the box store, and to friends who work at airlines, revealed no explanations. A passer-by said, "Maybe standing is perceived as more professional," but that does not fly.
If standing were more professional, why do attorneys consult sitting at their desks, accountants meet in a conference room or cafeteria, schoolteachers speak both while walking and sitting, and eye examinations are conducted seated eye-to-eye with a sophisticated examination device in between. Why are they not standing?
Does the seated check-in clerk at Heathrow Airport in London represent a significant, objective, outside point of view? When asked about the American custom, he said, "It is inhumane." For what it is worth, most airline and retail clerks in Europe sit down while working, and airline luggage moves robotically after the passenger lifts it onto a scale/conveyor belt. Check-out personnel here at German-owned Aldi are routinely seen seated. (However, Ikea cashiers stand.)
Not providing seats denies jobs to how many thousands? What portion of those on disability payments are out of the workforce because employers fail to provide opportunities to sit on the job? We do not know, but we do know that the California Supreme Court said this in April 2016:
"There is no principled reason for denying an employee a seat when he spends a substantial part of his workday at a single location performing tasks that could reasonably be done while seated, merely because his job duties include other tasks that must be done standing."
The expense of providing seating appropriate to the task and the person is unlikely to be prohibitive. Why don't we see more of it? Surely, a great tax cut will encourage employers to improve working conditions for thousands of workers.•
__________
Guy is a financial adviser and author of "Middle Man, a Broker's Tale." He can be reached at [email protected] Morton Marcus is an economist, writer and speaker who can be reached at [email protected]
 
Please enable JavaScript to view this content.