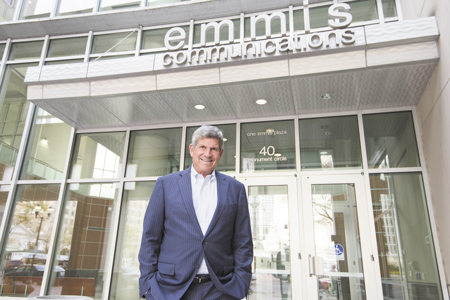 While it might appear at first glance that Emmis Communications Corp. CEO Jeff Smulyan is preparing to either liquidate or parachute out of the company he founded in 1979, he says that couldn't be further from the truth.
The company's sale of four St. Louis radio stations for $60 million in February, coupled with a move this month to restructure Smulyan's severance package, had some in the radio industry wondering if the soon-to-be-71-year-old is ready to cash in his chips.
When asked about the possibility, Smulyan let out a hearty laugh.
"No, that's not me," he told IBJ from his roomy office overlooking Monument Circle. "We are who we are, and I like working. Working is not stress to me. I like problem solving."
Smulyan said he's readying to put that love for problem solving to work by diversifying the company in a whole new direction. Years steering a publicly traded company in a high-profile business—radio, television and publishing—have him prepared to face criticism.
"We're looking at some new areas. I'd like to diversify and try another area where, if we do it, people will say, 'What do they know about the widget business?'" Smulyan said. "And that will be a fair question, but … what I've learned is that, every time we diversified, we were smart enough to know what we didn't know and we got the talent we needed."
Just what direction Smulyan is planning to take Emmis he wouldn't say. But the when? That appears to be soon.
"2018 should be a year of great transformation for Emmis. I'm very comfortable saying that," Smulyan said. "I'm thinking about a couple [of business opportunities], but we're not there yet. We're into some serious discussions in some places, so we'll see."
The new foray might not be a technology company per se, but will have technology embedded in it, he said.
One thing is certain.
"Our next large foray will not be media-related. We'd like to be in businesses that are growing. We've been in an industry that has shown almost no growth for a long, long time," he said.
"It's hard pushing water uphill every day. We've really survived much, much better than many of our peers. I have a great team here, and I would like to deploy those skills in business sectors that are growing."
Smulyan, who is known for working long hours, conceded he plans to start taking a bit more time off—as in vacationing with his wife and teenage daughter.
Still, he said, "I have no plans to retire or step down in the foreseeable future."
'We are not liquidating'
Smulyan also shot down the idea of liquidating Emmis—although some of the company's stockholders applaud the idea.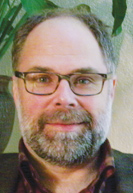 Stabosz
"We've seen the break-up value of Emmis climb," said Tim Stabosz, a La Porte City Council member who owns 185,000 Emmis shares. "The parts are worth more than the whole. I'd love to see it liquidate. I'm an investor, and that's how I would make money."
By liquidating the company, Stabosz said, Emmis shareholders could get at least triple the current stock price of about $4.50 per share.
"Liquidating would be great for shareholders, but it's not going to happen because Jeff doesn't want it to happen and he controls the company," Stabosz said.
Smulyan summarily dismissed the idea.
"I have some wonderful people around me, and I have as much energy as I've ever had," he said. "Let me be clear: We are not liquidating. I think we have some great opportunities in front of us."
Then, like an IndyCar racer in the fourth turn at the Indianapolis Motor Speedway, Smulyan raced through a list of goals he still hopes to accomplish.
He's doubling down on his efforts to grow Next Radio, an app that allows a cell phone to double as a portable radio, and Digonex Technologies, a tool that aids flexible-pricing strategies for anything from concert tickets to clothing.
He said Digonex, which was founded in 2000, will be profitable—for the first time—this year.
And though Next Radio is still losing a seven-figure sum annually, Smulyan said it's going global and is on a path to profitability, helped by recent deals with Alcatel Mobile, Samsung and LG.
"The value of the data we're collecting with Next Radio is staggering," he said.
Smulyan still has not given up on radio, although he admits it's a tough sled. He said he has no plans to sell his stations in New York (except for one), Indianapolis or Austin, Texas.
He also said there is a chance, though it's not his top priority, that Emmis could acquire more stations. If the Federal Communications Commission relaxes its ownership regulations—as some expect—Smulyan even said acquiring more Indianapolis stations isn't out of the question.
"You never say never," he said.
Currently, Emmis owns sports/talk station WFNI-AM 1070, news/talk station WIBC-FM 93.1, adult contemporary station WYXB-FM 105.7 and country station WLHK-FM 97.1, along with Network Indiana radio-news network and Indianapolis Monthly magazine.
A better night's sleep
Over the last two years, Emmis has been selling assets like a carpetbagger at a moving sale.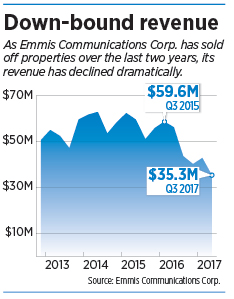 It sold Texas Monthly for $25 million in February 2016; three FM stations and one AM station in Terre Haute for $5.2 million in January 2017; city magazines in Atlanta, Cincinnati, Los Angeles and Orange County, California, for $6.5 million in February 2017; a massive FM station in Los Angeles for $82.8 million in August 2017; and four St. Louis stations last month.
"We made a decision we do not want to live with debt," Smulyan said of the sales. "We're down to our last $20 million in debt."
And the sell-off might not be over.
"We're considering a land sale of 70 acres in Whitestown along Interstate 65, and WLIB-AM in New York is for sale," Smulyan said.
He's "hopeful" both of those sales can be closed this year. "If we sell those two [assets], our debt would be zero," he added. "There are no fire sales."
The biggest advantage to Emmis' being debt-free? "The ability to get a better quality of sleep at night," Smulyan said. "When an industry is growing, leverage can be wonderful. If the industry is not growing—and radio right now is not—leverage is not so great."
What about the recent restructuring of Smulyan's severance package that fueled speculation about the future of Emmis and its founder?
"There were some changes in the tax laws. … It was a regulatory issue," Smulyan said. "It was just something that made sense for us to do. It wasn't a major shift in thinking."
Tom Taylor, who publishes a radio industry newsletter, noted that the benefits payable to Smulyan under the new agreement are smaller than under the old one.
"In exchange for that, Smulyan got 100,000 restricted shares of Emmis Class B common stock. But it won't vest for three years," Taylor said.
The new agreement states that, if there is a change in control, Smulyan can't voluntarily leave during the period of change. And if he's terminated within two years after a change in control, he gets his salary, pro-rated target bonus and vacation pay—but also severance of two times his base salary and bonus.
The old agreement would have paid Smulyan for three years after a change in control—including a liquidation—instead of only two.
"If I were planning to liquidate the company … I want to go from three years to five years [of severance pay]," Smulyan said.
Going private?
Smulyan—who controls the company through shares with extra voting power—has no current plans to try to take the company private. Smulyan made failed attempts in 2006, 2010 and 2016.
"I've played that game a couple of times," he said. "It hasn't been the most intellectually or emotionally satisfying experience. You never say never, but that would probably be a faint possibility at this time.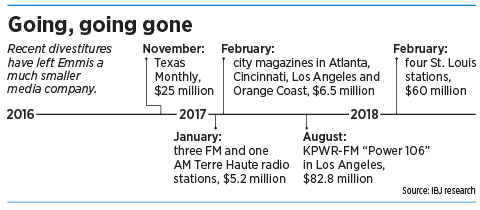 "No matter what price you offer, there is someone who calls [the media] and says, 'This is an outrage. This offer is disgusting,'" Smulyan said. "Then lawsuits get filed."
Even though Stabosz fought Smulyan's last attempt to take the company private, he said he'd be open to it now.
"Jeff must come to a mid-range price if he wants to take the company private," Stabosz said. "He has to arrive at something perhaps lower than the stockholders want but more than he wants to give."
Being public certainly has its disadvantages for Emmis.
"The company is simply way too small to be a public company. It's completely inefficient," said Robert Unmacht, a partner at RTK Media Inc., a Tennessee-based investment banking consultancy focused on broadcasting and technology.
A primary disadvantage is the expense. Industry sources said it costs Emmis more than $1 million annually in filing and legal expenses to be public.
"They get all the disadvantages of being public, and none of the advantages," Unmacht said. "Emmis' market cap eliminates a lot of investors you would want. Institutions don't want low-cap, low-cost stocks."
Instead of taking the company private, Smulyan said that, with the company's debt greatly reduced, Emmis officials might look to reward stockholders with dividends.
Or Emmis could offer an opportunity for liquidity through stock buybacks for those who don't like the direction he's taking the company or want to cash out for other reasons.•
Please enable JavaScript to view this content.