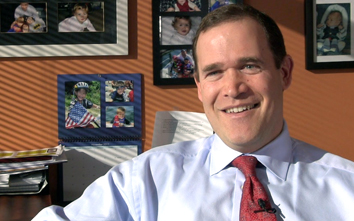 The Mind Trust's founding CEO, David Harris, next month will leave the influential education reform group he started more than a decade ago to launch a new national education group, according to a Thursday announcement.
Brandon Brown, the senior vice president of Mind Trust who previously worked under Mayor Greg Ballard as charter school director, will succeed Harris as CEO.
Harris, who worked as Indianapolis' first charter school director under former Mayor Bart Peterson, will leave behind a legacy that includes transforming Indianapolis Public Schools from the outside—many times facing great resistance from parts of the education community.
That influence on IPS includes pushing for more collaboration—instead of competition—between the district and nearby charter schools, and has led to the selection of many Mind Trust-approved school building leaders and partnerships.
Harris, who said he could not talk about his new venture at this point because "it's still being developed," said the Mind Trust during his tenure has "been able to advance dramatically" the goal of ensuring "every student in Indianapolis has the opportunity to attend a high-quality school."
Harris' influence on the city and state education systems also led to the passage of a 2013 law that allows IPS to form compacts with charter schools to launch so-called "innovation network schools" that can operate with more authority and outside of traditional unions. So far the district has launched 16 of those schools with more set to open later this year.
He said he was most proud that this fall, 50 percent of school kids within IPS boundaries will be in charter schools or innovation network schools, which he called "schools we think have the optimal conditions for success."
"It's not just change for change's sake," Harris told IBJ. "We think those schools are producing strong results and are the most promising sector of schools in our community."
The group has also transformed from a small entity that employed only Harris when it started in 2006. It grew to a staff of three in its first year and now  has 17 employees and oversees a roughly $12 million annual budget.
"I think this idea of having a non-profit at the city level that drives change year after year is something that has really become much more prevalent around the country," Harris said. "We've contributed to that in a significant way. I'm excited about that. I think that this collaboration with the district, the mayor's office and us that involves a lot of the charter sector, is a terrific model for the nation and it's really unique to have the level of collaboration we have between the district and charter school sector."
That hasn't been without its challenges. Harris acknowledged "of course there are critics, strong critics" of the group's work. But he said overall that hasn't stopped Mind Trust from moving forward on its goals.
"We've made enormous change in the last several years and have seen limited pushback," Harris said.
The Mind Trust has also brought education-focused organizations to the city, including Teach for America and TNTP, formerly known as the New Teacher Project.
It has incubated not-for-profits that have had a significant impact on the IPS district, such as the recently launched Enroll Indy, which will be a unified system to coordinate IPS and charter school enrollment.
IBJ reported in 2017 that Harris' leadership has also made The Mind Trust more of a nationally recognized organization.
In its beginning years, the bulk of the money it raised came from people and groups inside Indiana.
In 2017, more than half of the group's money came from out of state. Over the group's first eight years, from 2006 to 2014, the group raised $42.7 million, $6.4 million of which came from national donors.
From 2015 to 2017, the group raised $31 million, $17.4 million of which came from out of state, including donations from the Arkansas-based Walton Family Foundation and Austin, Texas-based Michael and Susan Dell Foundation.
 "I think we have recognized in the last year or so the significant national interest in supporting the work that's happening here," Harris said in 2017. "I don't want to suggest we haven't gotten any national funding before, but the big funding is really coming in now."
Brown, Harris' replacement, joined The Mind Trust after serving under Ballard from 2012 to 2015, where he oversaw 35 charter schools and four turnaround schools serving nearly 15,000 students, according to the group's website.
Before his time in Ballard's administration, Brown had roles with Teach For America, including as managing director of community partnerships in the Indianapolis office. He previously taught English at Carnahan High School in St. Louis.
Brown told IBJ his goal will be "continuing the vision that's already established. Continuing to expand the partnership we're doing with IPS and the mayor's office is critical.
"If there was going to be one new initiative, it would really be expanding support work for schools and networks," Brown said. "We've made a lot of progress and feel really good. There's a lot more work to do. It's going to be important to support schools and ensure they are as high-performing as they can possibly be."
Please enable JavaScript to view this content.