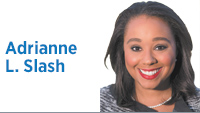 I remember Columbine like it was yesterday. April 20, 1999.

I was a freshman at North Central High School and remember feeling shock and disbelief that this, too, was America. I had no idea it was the beginning of a social norm that wasn't going to stop anytime soon. I remember believing no such thing would ever happen again.

Thirteen years later, Sandy Hook happened while I was working with children in a school on Indianapolis' far-west side. I walked in with no security and went straight to a classroom. In the months that followed, schools began re-enforcing school entrances, check-in procedures and identification screening. I remember being relieved that progress was coming.

Almost 20 years after Columbine, I still have mixed thoughts about whether people believe children deserve to be protected at any cost and to learn in safe environments. Thanks to Parkland, Florida, this issue remains a hot one.

This issue and argument are as multifaceted as they come. No one wants to take guns away, yet no one wants to have to worry if their kid will come home safely. No one wants to over-reach on behalf of the government, yet no one wants the next time to hit close to home.

On March 14, children nationwide walked out of their classrooms pleading to be allowed to assume a right of safety in their educational environments. Most in central Indiana were awarded their right to protest and did so productively and collectively with their peers.

The children of Parkland, Florida, have vowed to hold the country accountable in a signal that perhaps Gen Z might be even greater than the millennial generation when it comes to standing up for what they believe in. They are strongly leading the way and making sure it won't take another 20 years to make a difference.

When they turn 18 and register to vote or even file their candidate papers, whether they be male or female, Republicans or Democrats, whether we're ready for them or not, they're coming and they will force change.

They remind me of baby boomers with their might and "Who's going to stop me from exercising my freedom of speech?" mentality.

Millennials discovered how to use social media to share messages with the masses. Gen Z on the other hand not only uses it, but organizes with it, and quickly makes demands. We should all take note of their process. While we might not all agree with what they want, we should be proud of their effort, energy and tenacity in execution.

Let's be real.

What can we say to a generation that has grown up with school shootings as a norm? Most of us can't even begin to understand the level of trauma our students face, yet we're the ones making the decisions. How does that work?

Food for thought: We need to listen to them more for understanding, use them to guide us through their fears so we can know what is needed, and work with them to make reforms both in the educational system and within the legislative branch to relieve the fear of not being safe at school—the one place where a kid's supposed to be able to be a kid!

Maybe it's the former youth worker in me, but if you're asking me, I choose the kids.•


Click here for more Forefront columns.

__________

Slash is a diversity and inclusion consultant in the health care industry and is president of The Exchange at the Indianapolis Urban League. Send comments to ibjedit@ibj.com.