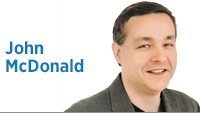 As a male entrepreneur, I will never be able to fully understand the experiences of female entrepreneurs. However, we can be advocates for overcoming some startling disadvantages women are facing in our industry.

In the spring of 2017, SmartAsset ranked Indianapolis as the fourth-best city for women in tech, yet only 8 percent of our venture-backed companies have a female founder on the team.

Payscale reports that, nationally, there are more CEOs named John than there are female CEOs. So as to not feel so self-conscious about my first name, I can report that there are also more named David.

March is National Women's History Month, a time to highlight the historic and contemporary contributions of women. For me, it's also a time to reflect on what we can do as a tech community to close our gender gap. The spark that ignites entrepreneurialism is gender-neutral, but you wouldn't know that by looking at the disproportionate allocation of capital funding, C-suite positions and leadership opportunities for females.

Money is power. Startups rely on venture capital, but that world is built around networks of men. Finance was not a woman-friendly field until recently, so the leaders of venture funds are almost exclusively older men, and they place their bets accordingly. Fortune reports that, in 2016, just 2.19 percent of total venture dollars went to female-founded startups.

IBJ's list of largest Indiana-based venture capital firms reveals just two woman serving as an officer or partner. We can overcome this gap only through deliberate promotion of women venture capitalists, seeding women-led funds out of our State's Next Level Fund, and placement of that money in the hands of women-led startups.

Words matter. Entrepreneurialism requires the willingness to take risks now and persevere. Yet, we tend to criticize girls for those characteristics while fostering them in boys. Boys are "strong-willed," while girls are "bossy." Boys are "decisive," while girls are "cold." We celebrate boys for playing loudly with toy weapons and football, while encouraging girls to be studious, artistic—and quiet.

This language simultaneously discourages women from being bold, and smacks them down if they overcome the bias and are brave. It's a lose-lose situation. This type of fossilized bias is detrimental to equality, and we must root it out of our community and from how we guide our children. Aside from how we approach our daughters, we need to systematically do more to help build up the women around us now.

Fear is a liar. For an entrepreneur, failure is the only teacher. Trying, failing quickly, learning, and trying again is what we do. But Babson College's 2012 Global Entrepreneur Monitor indicated "fear of failure" is the top concern of women who launch startups. If failure is core to entrepreneurialism, and most women fear it, how will we overcome the lie that women can't be fearless entrepreneurs? With all the other labels and language that follow professional women around, the worst is adding "failed entrepreneur" to the list.

We must create fearless zones where women are empowered to create their companies, where we afford them the same opportunities to fail that we provide their male counterparts. Won't you please talk to the women in your office; attend the events for women in business; and listen to their challenges, ideas and pitches? Celebrate women who speak their own stories. Encourage them to take risks and reward them when they fail and learn from the failure.

For women: more funding, better words and less fear. That's our calling as business leaders, so initiative—not a chromosome—will determine entrepreneurial success.•


Click here for more Forefront columns.

__________

McDonald is the CEO of Fishers-based ClearObject and chairman of the Indiana Technology and Innovation Policy Committee. Send comments to ibjedit@ibj.com.