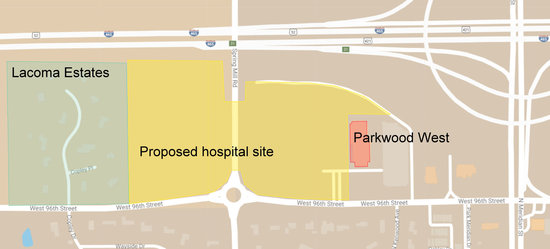 Neighbors of the Spring Mill Road and 96th Street intersection in Carmel are setting up a legal defense fund to challenge a large, proposed hospital development there. They plan to use the money to hire experts in traffic, noise control, drainage and related issues.
More than 100 people gathered Tuesday in a meeting room at St. Luke's United Methodist Church on West 86th Street, about a mile from the planned development (click on image below for larger view), to begin planning strategy to fight the project, which could cost $1 billion or more.
"We are in the process of coalescing neighbors," Hector Gonzalez, president of the Cedar Knolls Homeowners Association told the gathering. "It's important we have unified representation at this stage of the game."
He did not say how much he hoped to collect in the legal fund.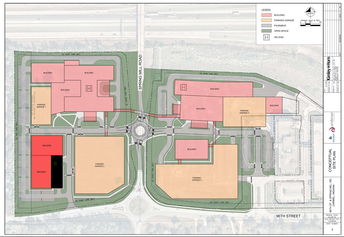 Many of the neighbors say they strongly oppose plans by an unidentified health care company to spend at least $1 billion to build a complex with nine buildings and four parking garages on the north side of 96th Street. A walking bridge would connect buildings across Spring Mill Road.
The project's petitioners are Ambrose Property Group and Bremner Real Estate. Bremner has made offers to buy 13 homes in Lacoma Estates, a subdivision just west of the project location. That would add 10 acres to the 30 acres at the intersection, for a total of 40 acres.
No one representing Ambrose or Bremner spoke up at the meeting. Nor is it clear which health system is behind the project. Several neighbors have said they heard it is St. Vincent Health, but a spokeswoman for the Indianapolis-based health system said last month she did not "have any details to share about potential new projects."
Neighbors say the project would increase noise, traffic and water runoff in a fairly quiet area, much of which is now filled with open fields and woods, and bordered in several places by residential subdivisions. Some said the developer should pick another location, farther from neighborhoods.
"They should go 10 miles north and get 1,000 acres, not try to squeeze in on 30 acres," said William H. Cummings, a neighbor.
Murray Clark, an attorney at Faegre Baker Daniels who is representing the Cedar Knolls Homeowners Association, told the crowd it could take many months for the proposed development to win numerous approvals from Carmel officials for rezoning, architecture, draining, lighting and related matters.
He advised the residents to focus on the rezoning process, which is the only issue that will come before the Carmel City Council. All others will be decided by Carmel administrative officials, he said.
"The only shot you get at elected officials is in the rezoning process," Clark said.
He called the proposal "jaw-droppingly intense," given all the buildings and features, including two helipads. The plans do not specify how large or tall the buildings will be, but Clark said they could be up to 11 stories high.
A rezoning hearing is set for April 17 before the Carmel Plan Commission.
Please enable JavaScript to view this content.