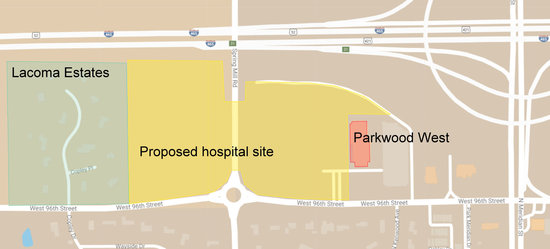 An unidentified health care company plans to spend at least $1 billion to build a medical complex at Spring Mill Road and 96th Street in Carmel that would include a large, inpatient hospital and medical offices.
Neighbors who have been contacted about selling their homes to make way for the complex say St. Vincent Health is behind the project. But a St. Vincent spokeswoman declined to confirm that, saying the organization does not have "details to share" at this time.
However, St. Vincent already has signed a master lease for the Parkwood West office building at 250 W. 96th St., which is adjacent to the planned hospital site, and revealed plans to remodel it for administrative functions.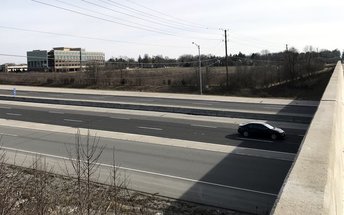 The proposed hospital site sits just south of Interstate 465 along Spring Mill Road. To the left is the Parkwood West building, which St. Vincent Health has leased for administrative functions. (IBJ photo/Greg Andrews)
Parkwood West is owned by Ambrose Property Group, which paid $47.8 million for the five-story, 187,000-square-foot building plus 14 acres of adjacent, undeveloped land in late 2016.
Now Ambrose and Sexton Development LLC—which owns 15 acres at the northwest corner of 96th and Spring Mill Road—have asked Carmel officials to rezone 30 acres that sit between 96th Street and Interstate 465. A map filed with the rezoning request shows the property, which straddles Spring Mill Road, would feature nine buildings and four parking garages.
In addition, Ambrose has partnered with Bremner Real Estate to make lucrative offers to buy 13 homes in Lacoma Estates, a subdivision just west of the project location. That would add another 10 acres to the site. A letter sent to Lacoma Estates residents says "the homes and lots … are worthy of acquisition to complement our project, but not absolutely necessary."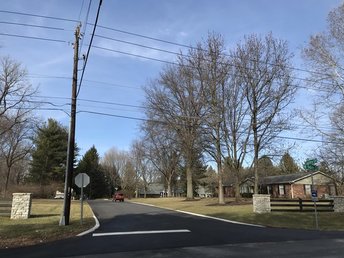 Ambrose Property Group and Bremner Real Estate have been offering 40 percent more than market value to buy property in Lacoma Estates. (IBJ photo/Greg Andrews)
St. Vincent's primary hospital is at 2001 W. 86th St. in Indianapolis, which is only about three miles west of the 96th Street location. If St. Vincent builds a new hospital on 96th Street, it's not clear what services would continue at 86th Street. The 86th Street hospital, opened in 1974, has more than 800 beds.
A 96th Street hospital would continue St. Vincent's aggressive push into affluent Hamilton County, which boasts a higher proportion of patients with commercial insurance, which reimburses for services at a higher rate than does Medicare and Medicaid.
St. Vincent already has a Carmel hospital at 13500 N. Meridian St. and a heart hospital at 10580 N. Meridian St., in addition to walk-in clinics in several Hamilton County locations. It is also spending millions of dollars on eight planned microhospitals—three of which have opened in recent months in Noblesville, Avon and Plainfield.
St. Vincent's vague statement about the 96th Street site contrasted with the reactions from spokespeople at several other area hospital systems contacted by IBJ, who all said the project wasn't theirs.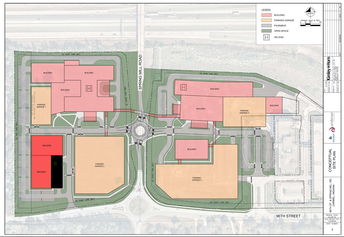 CLICK FOR LARGER IMAGE. Ambrose Property Group and Sexton Development LLC asked Carmel officials to rezone 30 acres at 96th Street and Spring Mill Road. (Image courtesy city of Carmel)
Tangela Floyd, the director of public relations at St. Vincent, said in an email that "while we are continuously evaluating opportunities to expand and reimagine access to healthcare for our community, we do not currently have any details to share about potential new projects."
Ambrose President Aasif Bade told IBJ: "We do not discuss potential or impending projects."
The plans that Ambrose and Sexton filed with the city of Carmel show five buildings and two parking garages to the west of Spring Mill Road and four buildings and two more parking garages to the east. A walking bridge would connect buildings across Spring Mill Road.
A new east-west road would be constructed just north of 96th Street. The new road would run through the development, and a roundabout would be constructed at the new intersection with Spring Mill. Pedestrian bridges would cross the new road to connect buildings to parking garages.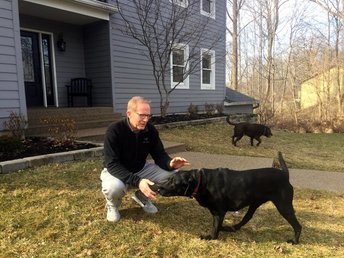 Bruce Torrance, who has lived at 9608 Copley Drive since 1984, plans to sell his four-bedroom house to developers for about $580,000. "We think it's a great opportunity," he said. (IBJ photo/John Russell)
Plans filed with the city do not include development on the Lacoma Estates properties and don't include the Parkwood West building.
However, a letter sent to Lacoma residents earlier this month by James Bremner, partner of Ambrose Bremner Healthcare LLC, said the group is offering fair market value plus a 40 percent premium for all homes in the neighborhood.
Property tax records show homes in the neighborhood have assessed values of between about $250,000 and $400,000.
Bruce Torrance, who has lived at 9608 Copley Drive since 1984, said his children are grown and he no longer needs a four-bedroom house. He said developers contacted him about a week ago. With the 40 percent premium and a $20,000 bonus, Torrance said the deal could be worth as much as $580,000. The transaction might close by the end of February, he said.
"It's a great opportunity," he said.
But a neighbor, Tom Grumme, said he has no interest in selling his house at 9636 Copley Drive, where he has lived for 34 years. His property includes a backyard pool and stairs down to a wide, open field where he likes to drive golf balls. From the back deck of his house he can see woods and streams for hundreds of yards.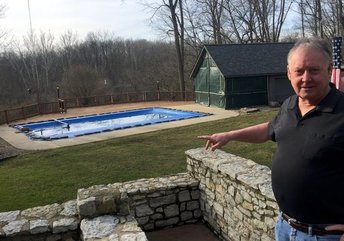 Tom Grumme has lived at 9636 Copley Drive for 34 years and is not interested in selling. "We've got a paradise here," he said. (IBJ photo/John Russell)
"We've got a paradise here," he said. "I'm not at all interested in selling."
Another property owner, Dr. David Cook, who lives in a quiet cul-de-sac at 501 Copley Place, said he wanted to stay in his house for many more years. He has lived there 17 years and recently built a new detached garage.  "We're in our 70s," he said. "We thought this would be our last house. We like the location. We don't want to move."
The letter to homeowners, which describes the project as costing "upwards of $1B," was signed by James Bremner, a former Duke Realty Corp. executive who now runs Bremner Real Estate.
"We are engaged by a major health system to plan, develop, and construct a large inpatient hospital, supporting medical office buildings, and parking structures," the letter reads. "The new medical campus will enable our client to provide service excellence and innovative care for the surrounding communities." 
The letter said purchase agreements would be distributed at a meeting that was held last week at the nearby Drury Inn.
The rezoning request—which would move the 30 acres from either residential zoning or the Parkwood West planned unit development to a designation called Meridian corridor zoning—is expected to be introduced to Carmel's Technical Advisory Committee on March 21 and head to the Carmel Plan Commission on April 17. The proposal would require approval from the Carmel City Council, as well.
Carmel Mayor Jim Brainard did not return IBJ's phone call about the project. A spokeswoman for Indianapolis Mayor Joe Hogsett said city officials were unaware of the project.
Bremner said in his letter to residents that the rezoning process could last nine months. The closing for residents who agree to sell would be 30 days after the rezoning is approved—but no later than Dec. 31—and the residents would have six months to move, with no rental fees.
John Barth, who lives south of 96th Street on Wayside Drive, expressed concern the project would add traffic and noise to the area.
"You can't stop a big project like this, but it has to look good and be people-friendly," he said. "If it's not, we're going to fight it."
Hayleigh Colombo and Scott Olson contributed to this story.
Please enable JavaScript to view this content.