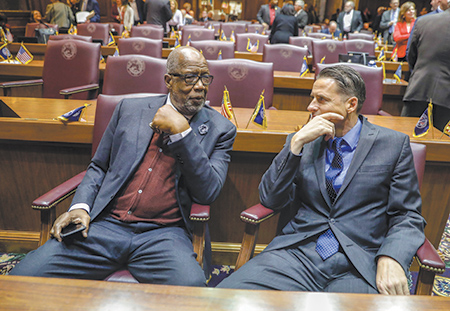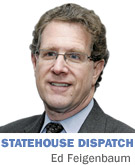 Change will be the order in the 2019 General Assembly session, and that might be a positive given the decidedly unsatisfactory way the closing hours of the session on March 14 descended into the legislative equivalent of one of Dante's proverbial lower levels.
The adult leadership that had managed to keep legislators focused on the endpoint even absent a galvanizing issue—a circumstance we repeatedly suggested was problematic—proved deficient at the end. As a result, several important measures (the most immediately important dealing with tax policy and school safety) ran out of time.
Chastened lawmakers will return to Indianapolis after the primary in mid-May to tidy things up at the behest of the governor, voting on school safety and technical tax packages (child-services consultant recommendations won't be ready until June) with details tied down well in advance.
Beyond that quick interlude, however, will be Organization Day in November, when senators will elect new leaders, and—regardless of how the election turns out—the House resolves a raft of changes atop committees.
Much of this is due to a large number of lawmaker retirements that will change the complexion of the two chambers, particularly the House.
The longest-serving House lawmaker to step down is Rep. Charlie Brown, D-Gary, first elected in 1982. While he's unfamiliar to most outside Lake County, he leaves a fascinating legacy and one of importance not just in Lake County and the Statehouse, but for people in Indianapolis.
Moving to Gary from Philadelphia as a young man, Brown was quickly recruited to the administration of then-mayor Richard Hatcher, a Democrat. He was a quick study with a winning personality and political savvy that eventually led him to the Statehouse, where he became involved in a wide range of policy issues—but he found his niche in public health.
As his policy chops grew, he also immersed himself in House rules and mores and studied his colleagues. He learned when he could collaborate with them—even across the aisle—and when and how to garner support for his own measures. 
Brown also didn't hesitate to clash with governors of his own party (Evan Bayh might still bear scars) or enlist the help of Republican governors (his legendary "Lord Shorty" slight of Mitch Daniels aside).
He was a strong advocate for his community, returning cash to Gary for physical projects and social efforts and working hard to advance human rights and capital issues.
Brown also ensured women and minorities were not overlooked in government. When The Legislative Conference debuted in 1992, he chastened organizers (yes, I'm guilty!) for its absence of women and people of color as panelists. Ditto over the years for public television's "Indiana Lawmakers" program. That both sought lawmakers, state and local officials, and others in positions of power for panels wasn't sufficient for him.
Both programs bent over backward to add women and minorities over the years. While it was sometimes a stretch, he raised consciousness. After LegCon in December and the season-end of the "Lawmakers" show in March, those responsible for securing guests realized the bulk of the speakers at the December event were women and minorities, and the sole panels on the TV show composed exclusively of old, white guys were the two legislative-leadership shows. 
Organizers hadn't reached out for more representative panels. A transition of sorts in power in the Legislature, state government and those working around both simply offered a marked contrast in race and gender to a generation earlier.
While this was certainly not singularly attributable to Brown, he played a major part of this quiet shift. Some of this was due to his work as a mentor. When he wasn't keeping the House on the straight and narrow with respect to rules, he was leading by example. Indianapolis Democratic Reps. Cherrish Pryor and Robin Shackleford were both Brown staffers in earlier days. 
The torch is passing to a new generation.•
__________
Feigenbaum publishes Indiana Legislative Insight for Hannah News Service. He can be reached at EDF@hannah-in.com..
Please enable JavaScript to view this content.