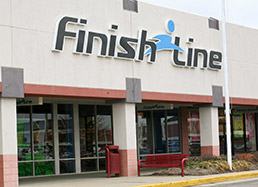 The surprise merger of Indianapolis-based The Finish Line Inc. and a European retailer announced Monday morning could create a sports apparel firm with a global footprint that could put it within striding distance of industry heavyweight Foot Locker.
Executives played up the international angle when revealing that United Kingdom-based JD Sports Fashion planned to acquire U.S.-focused Finish Line for $558 million.
Peter Cowgill, executive chairman of JD Sports, said the deal was "a clear next step to increase our global scale." Bill Carmichael, lead director of Finish Line's board, said the acquisition immediately put the company "into a stronger position to compete as part of a global enterprise that leads in our industry."
Finish Line shares jumped as much as 30 percent to $13.74 in morning trading, above the $13.50-a-share offer from JD Sports. Overshooting the offer could indicate that investors believe another suitor could sweep in with a higher bid.
Among early reactions to the deal, one analyst said the combined firm would be a worthy rival for Foot Locker.
"The combined entity would make a more formidable competitor vs. [Foot Locker] as its scale and geographic diversity better matches [Foot Locker's]," said industry analyst Camilo Lyon of Canaccord Genuity in a report issued Monday.
Finish Line operates 556 stand-alone stores and another 375 outposts within Macy's department stores. JD Sports counts about 1,400 stores in Europe, bringing the combined number of stores for the merged retailer to about 2,330.
Foot Locker operates about 3,360 stores in the United States, Canada, Europe, Australia and New Zealand. They primarily are in malls but also are  in high-traffic urban retail areas.
Foot Locker reported $7.8 billion in revenue for 2017. The combination of JD Sports and Finish Line is expected to have a revenue base of $5.5 billion, according to Canaccord Genuity.
The deal, which has been approved by Finish Line's board of directors, is expected to close this summer.
Lyon said he does not expect a competing bid. Sports Direct International, another U.K.-based sports apparel retailer, last year took a large stake in Finish Line, although the majority of its shares did not grant voting rights.
"We had been skeptical about Sports Direct's true intent on buying [Finish Line] largely because SPD usually buys companies out of bankruptcy. Moreover, SPD has made similar investments in other U.S. retailers to no eventual end," Lyon wrote in the report.
Due to the distinct geographies in which the two companies operate, JD Sports said it doesn't see any significant adjustments in headcount.
Finish's Line's executive team would "continue their involvement with the business," which Lyon took to mean that it would continue to run the business.
Finish Line executives did not respond to IBJ's request for comment on Monday morning on how its Indianapolis operations might change—if at all—as a result of the deal.
As of February 2017, Finish Line employed 12,700 people, 3,700 of whom were full time and 9,000 of whom were part time.
Of this total, about 1,100 were employed at the company's headquarters and distribution center on Post Road on Indianapolis' east side and in a small corporate office in Boulder, Colorado.
JD Sports could help Finish Line get fresher fashions into stores, according to a Bloomberg News columnist.
"That should make it more capable of competing with Foot Locker Inc. on sneakers. Adding JD's more fashion-focused clothing and its online prowess should provide other competitive advantages," columnist Andrea Felstad wrote Monday.
However, "history is littered with examples of British retailers, emboldened by success at home, that expanded into the U.S., only to retreat a few years later," Felstad wrote.
Please enable JavaScript to view this content.